I'm all about versatility when it comes to my closet so I couldn't resist partnering with a few blog friends on Instagram this week to share how we would each style this awesome Amazon skirt. What adds to the awesome factor? It's available tons of prints and colors, is such a steal at under $20, is super versatile and so cute.
While it was initially a summer favorite with light floral and bright solid colors, there are now so many more fall-hued options like this burgundy print I'm styling. What you'll notice here is that most of the outfits besides the skirt include items I've had in my closet — and you might have in yours — for years. Sometimes it takes one new item to give you fresh ways to wear what you already own, or even inspiration like this to pull out a skirt that's been sitting in your closet that you always wear the same way. We all are guilty of this, and I had so much fun doing this little blogger Instagram collab for this exact reason. It's often not about spending money, it's about rethinking and re-purposing what you already own.
Here are just a few of my favorite prints/colors for this Amazon skirt….
FUN GIVEAWAY: Best of all: through today, I'm partnering with my three friends to give one Instagram follower a $175 gift card to Amazon; head to my feed (@themodernsavvy) for all the details. The only requirement is that you follow all four of us, which you already might be doing!
5 Ways to Wear and Amazon Skirt
OUTFIT 1: STATEMENT TEE & SNEAKS
While I'd typically go for a solid colored tee, play around with statement and band tees this season, add a pair of sneakers (just not your gym sneaks!) and head out the door. I've had this pair for a few seasons, however I'd equally love a pair of Adidas… Stan Smith's are a classic.
Also, a denim jacket is always a good decision! Mine is older but I've had this one from Old Navy in my cart and want it one size up (my current one is more fitted).
tee: j. crew (older; such good options here) // skirt // sneakers (older; try these for a white pair, or this for a budget black pair)
OUTFIT 2: SWEATER & BOOTIES
Grab your cozy sweaters and layer it over a sweater; I love this look with a pair of booties (or sneakers, or anything, really). I got this cashmere sweater a few years ago at Nordstrom and it's still available in tons of colors, and just under $100. I also have it in grey.
sweater // skirt // booties (old; similar here or here)
OUTFIT 3: PULLOVER & HEELS
Another closet classic: the denim pullover, this one probably five years old from Target. I paired with a pair of coordinating burgundy pumps for an office appropriate look. If your office is even more formal, opt for a crisp white button down.
Also, I tucked in the little straps in the front of the skirt, another way to make it a little less casual, and a bit more polished.
denim pullover (similar, or would love in army green here) // skirt // heels (similar, have in 3 colors)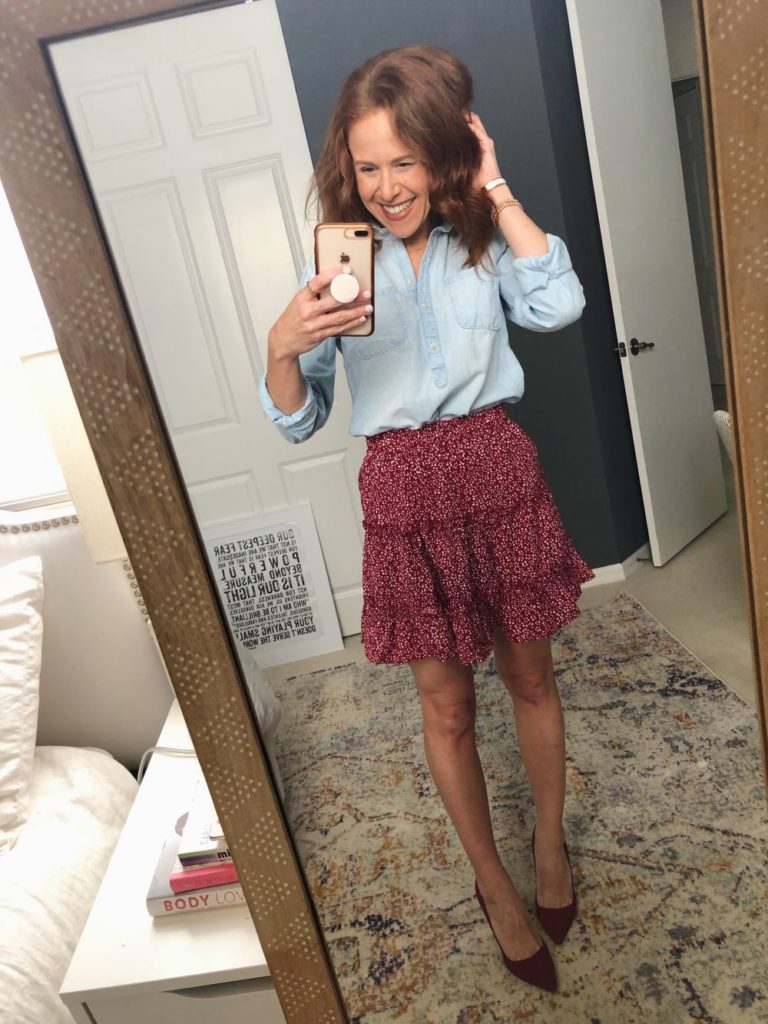 OUTFIT 4: THERMAL & LEOPARD SNEAKS
You can never go wrong with a thermal, like this one from Abercrombie last year that I wear it constantly. Pair it with a pair of Golden Goose dupes (or the real deal!), and you have a stylish outfit that's a fun alternative to basic top and jeans.
Thermal // skirt // Sneakers (under $30, or these)
OUTFIT 5: RIBBED TOP & OVER-THE-KNEE BOOTS
This might be my favorite outfit because I'm SO in love with these over the knee boots. I always see northern bloggers do this skirt/dress style but Florida girl here is a novice with this type of style… until now. I love how fun this is for a night out, and yet, I'm barely showing any skin.
Top: Abercrombie (older; similar) // skirt // Boots: Goodnight Macaroon // denim jacket: similar here
Do you like posts like this? Let me know what item you'd like me to style next!!
A FEW HOME DETAILS….
By the way, I found this print on ETSY after seeing this quote on Instagram. I love, love, love what this says and wanted a daily reminder in my office. You can find the print here, the rug here (the color palette is so much prettier in person; I legit waited four months for it to come in stock for our office/guest room), and this wood mirror (which I borrowed/stole from Sarah's room and definitely used major muscle to move, lol) is an awesome under $85 Target find.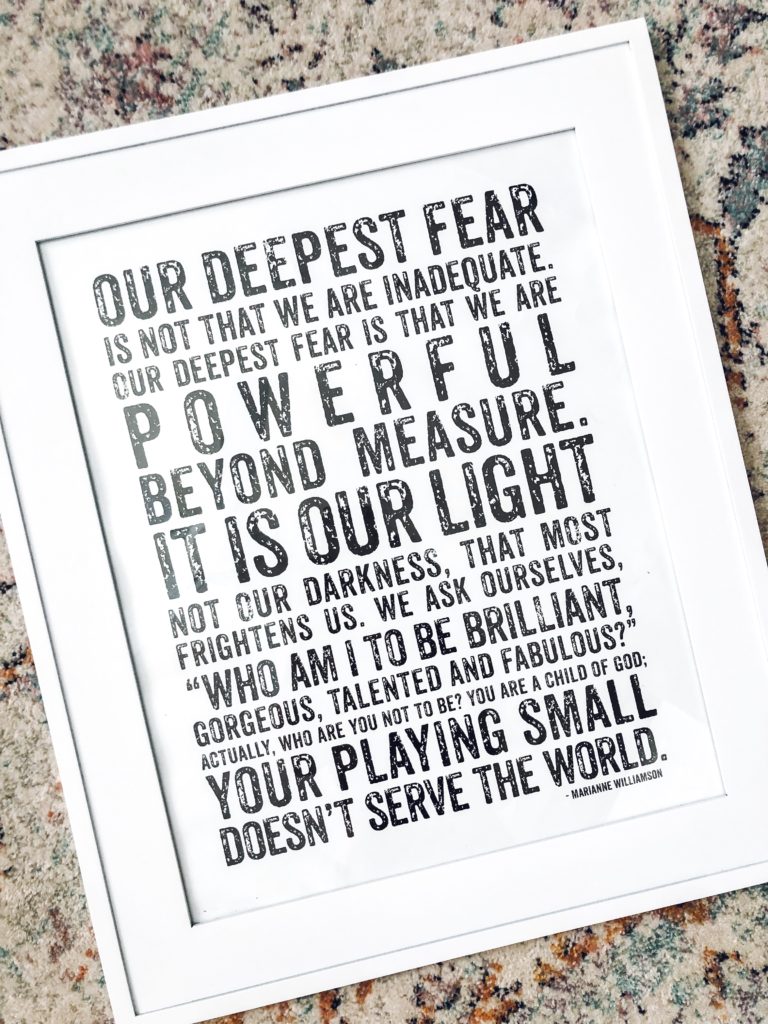 Which outfit for this Amazon skirt did you like the most? Share in a comment below!