As someone who was a little heavier most of my life (add about 20-25 lbs to the girl you see here), I would always wear pretty standard clothes. As you might have heard me mention, the idea that I'm sharing any sort of style advice here is kind of hysterical. But, hey, 6+ years of practice, learning and experimenting make a world of difference!
I completely embrace the idea that clothes are an opportunity to express ourselves, to have fun… to use brights to turn around a sad mood or a gloomy day, to wear a little lace or play up a favorite body part to feel extra sexy, or to wear all black for a rocker chick vibe. Anything goes, and unlike a tattoo that's forever, the best part of an outfit is that there's no commitment (ok, maybe Facebook has changed that a little, but still!)… and each day we're able to create a new look, a new vibe.
Where I get hung up is a bit on rules when it comes to my height. I used to say I'm 5'4+ but I'm just about 5'3 and have always been intimidated by midi length dresses — that's the length somewhere mid-calf — for fear it would make me feel and look even shorter, like a little stumpy. Hot visual, I know. Well, I saw this adorable off-the-shoulder number from the popular Who What Wear collection at Target on Monday — with Evan in tow and a best buddy and her sleeping girl, too, mind you — and thought, hey, this could be super cute! I tossed it in my cart to figure it out at home (#impulsepurchase). I'm SO glad I went for it. I mean, so cute right? I love, love the olive green, the flattering crepe fabric and this adorable midi length that looks just as cute with my blush heels as it will with flip flops and a denim jacket.
I see so many friends get caught up in what they have and what they think they should wear so they stick to what's worked in the past… the black tee. The boot cut denim. The standard work pant. Too oversized tees. These girls are HOT, and often, these basics are fine, but they're not showing off the gorgeous girls I see. #justsayin. Embrace what you have… and if you're unsure, I'm happy to come play dress up anytime!
EMBRACING NEW STYLES WITH WHO WHAT WEAR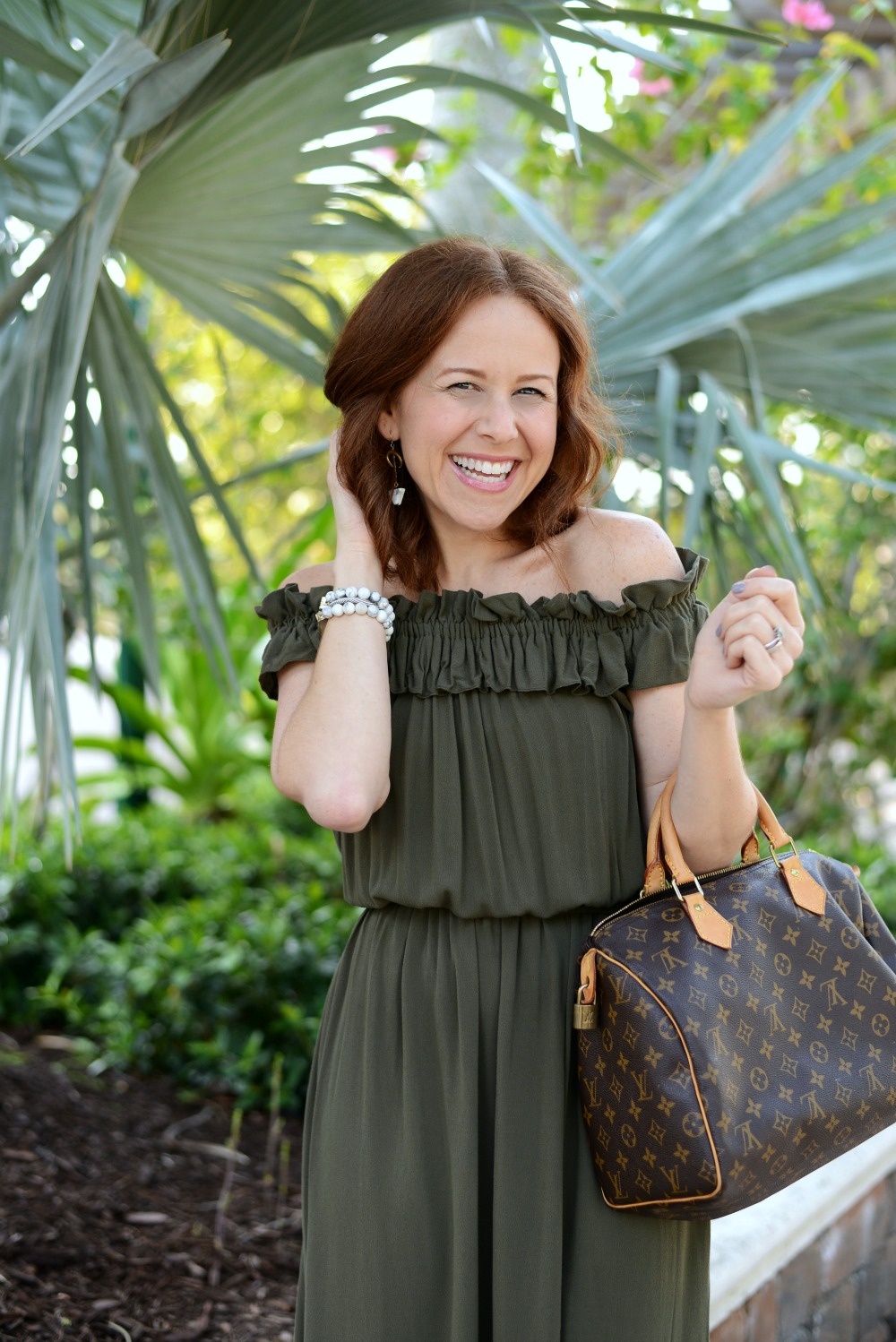 GET THIS WHO WHAT WEAR OUTFIT
Dress: Who What Wear via Target (also love this option with a sleeve)
Heels: Rebecca Minkoff (try this, or love these under $60)
Earrings: Gypset (bought this pair at Marston Boutique in Jupiter,  Fla.)
Beaded bracelets: Alexandra Gioia
Cuff: David Yurman
Purse: Louis Vuitton
PS: wondering, where the heck you would wear this Who What Wear midi dress? A few examples: date night, girls weekend, baby or bridal shower, or wedding rehearsal dinner (we have two this spring!).