This post is in partnership with PRIMP Network and Vistaprint. All opinions are my own.
Have you ever thought about starting a business? It's such an exciting notion, filled with so much opportunity. And yet, it can often feel so overwhelming, particularly if you are starting a business as a side hustle or have been out of the career game for awhile.
I have a best friend — a super talented, smart best friend! — who is starting her own business and I couldn't be more excited for her. We've spoken at length, and I'm incredibly humbled that she's asked for my perspective based on my experience running a PR company and this site. I launched both in August 2010, and I've learned more than I could have imagined, about business and myself. Get ready for an incredibly rewarding, humbling, joyful, confusing, stressful and every other word you can describe, absolutely-worth-it-journey.
I had zero dollars allocated to either business eight years ago so I made my first blog business card on Vistaprint FOR FREE. It was seriously awesome, and opening that package was insanely exhilarating. Vistaprint made me legit! Now, eight years later with a new blog name (remember The Average Girl's Guide?!) and and a lot more insight, I'm excited to partner with Vistaprint to share with you what you should know before starting a business.
And, I am over-the-moon excited to share with you my refreshed business cards. They turned out awesome and holy kazam, Vistaprint's offerings have expanded with so many awesome shapes, paperstocks, finishes, and specialty features  (FYI: mama loves good quality paper!). I'm really impressed how the site has grown over the years. I'll get to that more in a moment.
Here's what are my best tips before starting a business.
Believe in yourself. I can imagine the number one reason people never start a business they've dreamed about is due to fear, not resources. Are you making excuses for yourself? Never let your excuses outweigh your determination because no one is going to believe in your dreams as much as you do. If you have been holding yourself back, be honest with yourself, your excuses and your fears. It's reasonable that anyone starting a new business will have fears. But, don't let them stop you from doing what you were meant to do.
Understand how you're helping people. How is your business solving a problem? Whether that means you are creating a product or service to meet a need, or there's simply no good place to get chips and guac in your hood, consider how you are going to fill a void in the market. Or, how can you make someone's life easier, better, more fun, or more efficient? If you've watched Shark Tank — we're obsessed —  there are so many examples of little and big ideas: the guys with the ugly sweater company, the Squatty Potty (a huge hit at our house), GrooveBook to make printing photos on our phones easier, LumAID for solar portable light, or even the ones who created a little portable safe you can attach to your beach chair. Consider how your business can help people (this will also help you determine your target market/s).
Differentiate yourself / Do your research.   Sometime services are just that… a service. How will your accounting firm be better or different? Every accountant thinks they're the best so go beyond that: will you specialize in a specific niche, offer child care to clients during tax season, you see what I mean. After surveying my market for PR firms, for example, I noticed how my years of experience (agency, tourism, higher education & nonprofit) coupled with the fact that I was a blogger and had unique insight on the influencer market, offered clients a unique set of a skills, all at a fair value. For the blog, I wanted a place where women — in addition to hearing about a great deal! — could connect about honest conversations (#ventsesh) and didn't see it being done. How will you be differentiate yourself in a crowded marketplace?
Know your value. Years ago, business owner friend in the events space was a year into her business and talked with me how she was selective with new clients; she simply wasn't the right fit for everyone. Eight years later, I continue to take her words to heart. Particularly in a service business, just because someone wants your service doesn't mean you are the right person for them. Our PR firm specifically has clients clients with a greater scope of services… that's where we recognize we can provide the greatest impact. There are other agencies that offer more individualized services and therefore offer lower rates. Know your business.
Become official: Get business cards. Seriously, you need VERY little to start many businesses but if you're networking and meeting new people, you must leave a good first impression. Vistaprint is an amazing option, particularly when budgets are tight. You can upload your own design — which I did — or select from a huge selection of templates.
When it comes to cards, two personal tips:
Invest a few extra dollars in quality paper, either a thicker card stock or a soft touch, which I used for a beautiful satin feel. It's a subtle way to reflect the quality of your business.
Consider shape: if appropriate for your business, consider a unique shape, like a square. I swear my PR company square cards are more of a conversation starter than you'd imagine, and in my industry, it shows our creative flair. I printed mine locally a few years back but I'm due for a reprint and plan to use Vistaprint this time. A quality paper can be equally important; it's a subtle way to show quality.
Vistaprint made it insanely easy for me — I uploaded my design, selected quantity, etc., and then vavoom, it shows you this handy proof:
In less than 10 minutes my cards were ordered, and arrived just a few days later. I was pleasantly surprised how inexpensive my cards were so I couldn't resist adding branded Vistaprint pens & mailing labels to my order. 😉
Exclusive deal: Get 40% off your business cards and mailing labels at Vistaprint with code OFF40VP! 
Dedicate time. Dreams and goals are great, but they're just that until you invest the time to make them a reality. How can you carve out time each day? If that means waking up earlier or later, binging a little less on TV or eating lunch at your desk so you can focus on your side hustle, decide how you are going to make it happen. Create to-do lists, and make deadlines for yourself. Put them in your calendar with reminder notices. Prioritize yourself (i.e. do not put off your goals for something or someone else).
Laws and accounting, blah blah blah. Ugh, just writing these words make this creative girl's eyes glaze over. We all just want to get to the fun stuff, but this stuff is a reality. A necessary reality. Learn the laws of your industry, get paperwork in order, etc. Sure there are contract templates you can google but usually this is the upfront investment worth making to have a business lawyer review your documents to ensure you're protecting yourself. Join local Facebook groups (we have ones like Freelancing Females) and ask for affordable recommendations, or perhaps you can barter! And, financial side note: get a separate bank account now.
Just start. I see so many new businesses get bogged down in ultimately unimportant details. You most likely don't need a 10 page web site, stationary, and a 40-page business plan. You're busying yourself without accomplishing anything. Is stationary getting you closer to your goal? If not, start crossing off items on your to-do list that will get you closer to starting your Etsy shop, opening up your business, writing a book, whatever it is.
Market & Promote. You've done all the work and now you need to be sure people know about it! Network, create social media pages, offer up promo items for event gift bags (everyone loves swag & you can gauge effectiveness by how many people use them!). My branded pens via Vistaprint had me thinking of all the creative ways I could use my logo for my own use or to gift to others. Take time to find a creative marketing item that your potential client or possible business referrals would like.
Check in with yourself. It's so important as a new business owner to check in with yourself. There is no four-hour work week; in fact, you'll likely work harder than ever before, and likely also waste a lot of time going down a path you eventually realize isn't for you. Recognize, as in everything, everyone will offer up unsolicited advice. Listen (if you want) but don't be swayed. There is no set path so it's up for you to create it.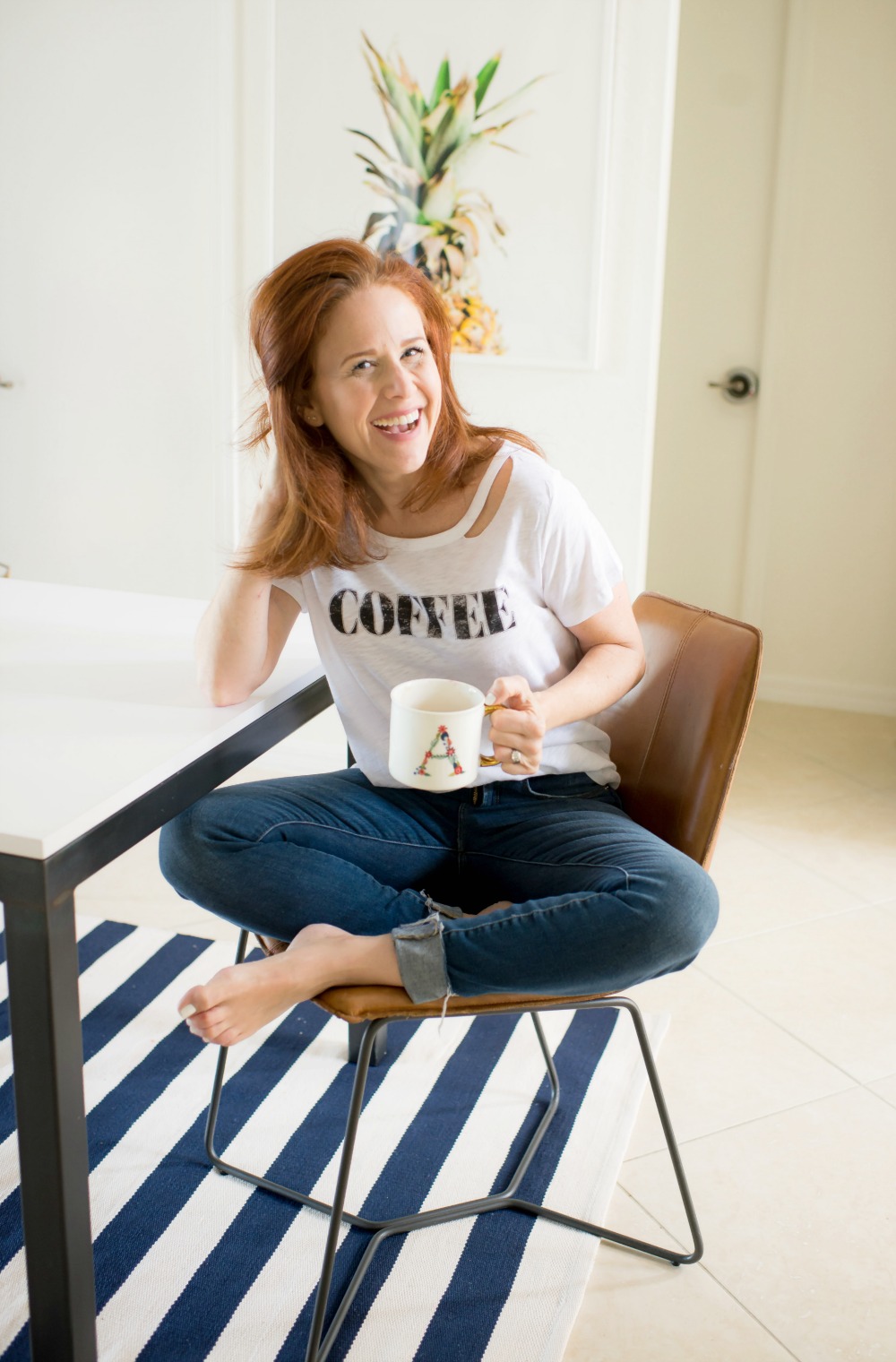 Find your network. I'll leave with you with this honest piece of advice. The toughest part of creating a business is that it's often just you. It's easy to get in the weeds or even doubt yourself, particularly if you're struggling to get your business off the ground. If you're someone who likes brainstorming or feeds off of other's energy, consider seeking out a trusted network of women or professionals for camaraderie, mentorship, professional development and a sounding board.
That's what I got! The tips for new business owners are endless but sometimes less it more; feel confident in yourself, believe in your gut you are capable, and start. START. I believe in you.
Photos by Erica Dunhill