This post is brought to you by Target. 
Ah, the holidays! As someone who's often the host to incoming friends and family, I totally sympathize with those who love this festive, fun time of year while also feeling a little extra stress prepping and entertaining loved ones. Some keys, I'm learning, are to prepare with fun welcome gift baskets, provide functional storage and stock up on toiletries, ultimately making it easier for them, and you, to enjoy your time together.
Since our guest room doubles as our office, we're limited by space and have the tiniest nightstand. I'm a tray fanatic—they're functional, great for organizing and come in so many beautiful finishes—so I thought it would be the easiest, prettiest way to elevate our guest room situation as well.
I found this beautiful wooden tray at Target, with handles that make for the perfect portable option for guests (we also leave space on our desks so it can shift there at night). As a side note, we recently stocked this tray with kids' snacks for our son's birthday party. WIN.
Stock your tray on your bed with a pretty smaller tray for jewelry and keys, plus fresh soap, a toothbrush (stored in the cutest monogram mug), a hand towel, water and some fresh flowers, if you have them on hand. I promise I typically don't, but hey — I need to show off to you guys at least a little.
If you're having an entire family, consider corralling all their shoes in a decorative bin by the front door, or in the garage or guest room. It's a pretty solution, and then you're not frantically searching for a little one's tiny shoe when you're racing to lunch (been there).
Have any other ideas for welcoming guests? I would love if you shared them in the comments section.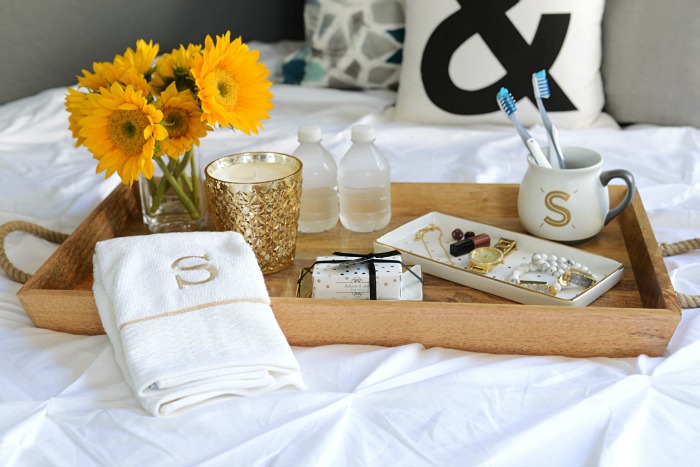 Photography: South Moon Photography
Find your style @TargetStyle.