Our first Disney cruise over Spring Break was such a success! Even though I've been on a few cruises, I had so many questions. So. Many. Questions. I have also received quite a few from readers so for your travel planning, I'm excited to share everything I learned on our trip and scoop our friends gave me that was a huge, huge help. I'm by no means an expert, however these insider tips and helpful advice will ensure you know what to expect for your first Disney cruise.
For reference, we sailed the five night Disney Magic out of the Port of Miami, with stops in Cozumel and Disney's private island, Castaway Cay. Disney has a newer cruise line, the Dream, which has a four-night option out of Port Canaveral, and longer options as well, though we were thrilled we opted for the five night cruise.
If you're nervous, anxious or just don't know where to start planning, here are 20 things you should know about a Disney cruise to help with planning and to maximize your vacation.
THINGS TO KNOW FOR YOUR FIRST DISNEY CRUISE
Don't stress! It's a vacation after all.
I spent so much effort worried about what to bring with me, what clothes we should pack, etc. My friends were right: you need less than you think. Bathing suits, cover-ups, easy dresses, some denim and fun tops, something warm for a chilly night or hanging in your room, and you're set. You see people at dinner super dressed up, and some in shorts.
On the ship, you'll see all sorts of families…. some who do everything, some who likely do nothing except lay poolside, some whose kids are in the kids club the entire time, and others who refuse the kids club. Do what feels right for YOUR family. Do not stress. Enjoy all the magic and forget the stress.
Download the app
So, a friend mentioned downloading the app, Disney Navigator, before we boarded and, what a lifesaver! I can't believe it wasn't on any Disney planning documents. The app includes the daily schedule, menus, character locations, kids club activities and a texting app so you can communicate for free and without charges with anyone on the ship. It's how Adam and I stayed in constant communication the entire trip. Each room also comes equipped with two Wave phones to call or text other guests on the boat or Castaway Cay.
Packing: Bring the random extras
My friend Jen of the Suburban Mom suggested bringing things like travel scissors and magnet clips since the doors are magnetic. GENIUS! I don't know why I never had travel scissors but I already used them again when we went to NYC… so handy. And, the magnetic clips were perfect for hanging on the door and out of the way (without losing them!) the daily schedule, tickets to meet and greets or excursions, etc. It's these little details that really helped us feel prepared and kept us organized.
Here's a few random things we brought with us…
BYOB
Amazing news: you can bring on board your own water (we brought a 24 pack), and up to two bottles of wine or six-pack of beer per guest. We constantly grabbed the water during the day, for days at port or just random times during the day. To make luggage easier, you can have your water tagged when you drop off your luggage curbside and it will be delivered to your stateroom.
We of course also brought some snacks we knew the kiddos would love and would be better choices than another dessert or french fries.
Door decorating and fish extenders
Something pretty unique to Disney, guests can get really into decorating their doors and doing something called "fish extenders." I totally didn't know what this meant but basically, your room number is on a fish sculpture and some guests make or buy "fish extenders" that hang down; parents can leave little treats for their kids in pockets on the extenders. Personally, we didn't do the fish extenders and I don't see the need but we definitely would want to decorate our door next time.
It's pricey… but worth it
To be candid, our biggest hesitation was the price. We for sure had sticker shock when we first researched. Would this cruise be worth spending two or three times more than others? We candidly don't have experience with cruising as a family on other cruise lines but nearly everyone we spoke to said it was, so we thought… let's do it. I have to tell you, budget permitting, it was a phenomenal experience. Every crew member was so kind, there are plentiful activities, and it's just an all-around incredible experience that you and your children will have. Be sure to have a little extra spending money for cocktails, keepsakes, on-board gift shops, photos, etc.
The crew is incredible
On a similar note, we have to say that not only was the crew — from the servers, to the kids club staff to our stateroom attendant — did their jobs well, they also were so incredibly kind, fun, welcoming, friendly and accommodating to us and our kiddos.
For example, our daughter is the pickiest eater, even by children's standards. They discovered she likes brie cheese however (random, I know!) so each night, they had a brie platter at our dinner table for her. The one night we didn't go to dinner? Our server delivered it to our room!
The fro yo machine is always on
Priorities people, priorities! I could not get enough of my mini fro yo cones nearly every day (ok who am I kidding, often twice daily!) and it was such a fun treat. They often rotated the flavors, too.  There are other machines for complimentary hot chocolate, tea, coffee and soft drinks.
You can also get for a nominal cost (under $5) fresh-made juices and smoothies, and dole whips. YUM.
Small yet nicely appointed rooms
Look, cruise ship state rooms are not like staying in a regular hotel room. Unless you're spending big money, you're in a room under 300 square feet. Yes, it's a super tiny space with your loved ones… thankfully you don't spent much time in there. We got a room with a veranda/balcony, a queen bed, a couch that converts to a slightly larger than twin/lower bunk bed, and a upper bed (think bunk bed) that the attendant pulled down from the ceiling each night. There's also a helpful curtain between that space and our bed, so we could close it at night and for nap time.
The bathroom is split into two: one has a shower and sink, and the other has a toilet and sink. I hear it's the same on other ships as well.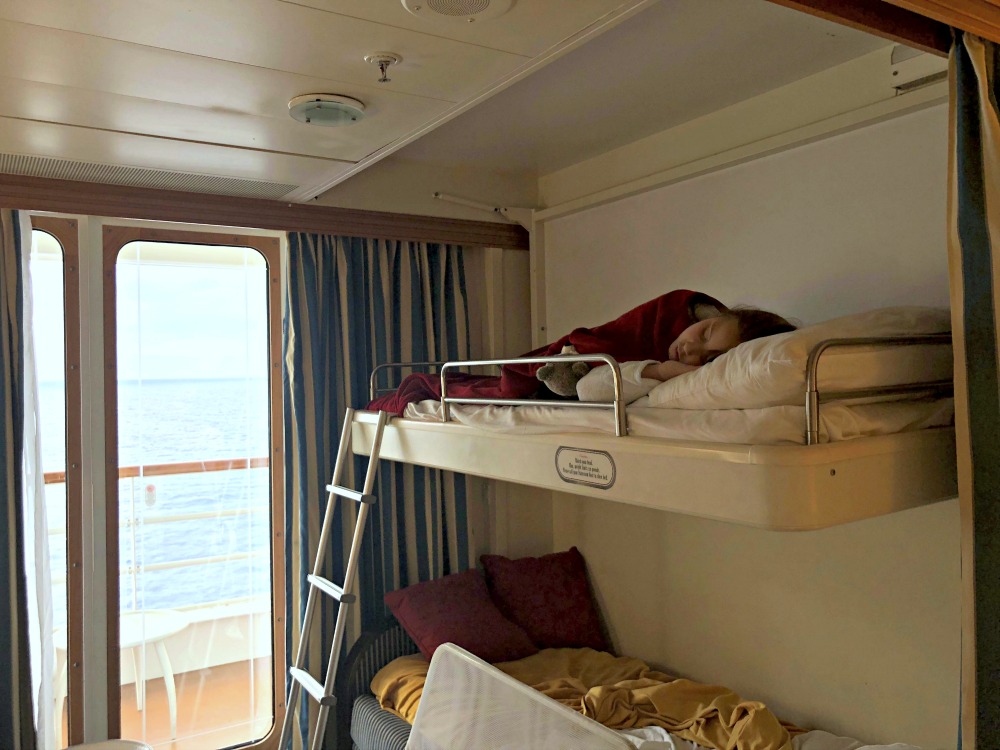 Disney TV in your stateroom
If you've ever been on a cruise you know the TV situation is very limited. Well, hello Disney! They have Disney and Disney Junior, which was amazing when we all needed some downtime and we didn't want to toss an iPad at them. The TV was situated where the kids slept/couch area, which was perfect.
Book meet-and-greets in advance, or ASAP when you get aboard
Be sure to go to your Disney cruise portal and see if there are any character experiences your kiddos will be interested in. For example, our kids wanted to see the Anna and Elsa, the characters from Guardians of the Galaxy, and they did private meet and greets. It was an awesome way to wait only a few minutes to meet them but heads up: they do book up. If you don't do this in advance, check with hospitality as soon as you get on the ship to see if you can snag a ticket. You don't see characters regularly walking around the ship as you might expect — except for the last night when many (though not all, no Elsa and Anna for example) were available for your last photo opp — so this is necessary.
Play match maker with your kiddos
Are you going with other families? If so, you're pretty set! We went with our family, half assuming we'd run into other local families on spring break. We were wrong… however there was a super sweet family sitting next to us at dinner with two kiddos that looked around Evan and Sarah's friends. Guess who decided to play match maker? ME! Sarah was super uninterested in the Disney Kids Club (which I obviously assumed they'd go to daily) but… once she had a friend there, it was the best. She was super excited to play with her new bestie, and it gave us just the reprieve we needed. Other mamas are feeling the same, so don't be shy about trying to create new friendships.
Dinner: A nightly rotation
Each night on Disney ships you rotate to its three restaurants, which we loved. They are each themed/designed differently so it's a fresh new experience. Best of all, your servers rotate with you so by night two they know your preferences and get to know you and your kiddos. They really go above and beyond to ensure you have the best experience each night.
As a side note, you'll notice just like regular cruises there are two dinner times. For us, we preferred the earlier dinner so we can see the nightly shows at 8:30 pm (they're also at 6 pm) and not have "hangry" children for 8:30 pm dinners. Perhaps if our kiddos were older we would have felt differently. At the same time, you can skip the formal sit-down dinner and enjoy a meal at one of the more casual options on board at your convenience.
The shows are worth seeing
Speaking of the nightly shows, they're incredible! Think Broadway, or close to it. The theatrics were seriously impressive, with detailed sets, and really talented performers. We caught every show, and suggest you do the same! Our daughter, who isn't even really into princesses anymore, was absolutely captivated the entire time at the theatrical performances.
There are also shows on the cruise deck, including fireworks, dance parties, and themed performances absolutely worth checking out.
Find out about time changes
Seems silly however we didn't realize that for Cozumel we'd experience a time change. Sigh. It meant we wound up missing one character experience because my 9:15 am time slot became too early… and losing an hour stinks, too. It's not the worst but helpful to know in advance when planning your itinerary for the day. We only found out when our stateroom attendant left a note in our room at 7 pm the night of the time change.
Check out brand-new movies
Looking for a lazy activity? Our ship played movies out in theaters like Black Panther and A Wrinkle in Time in the theatre at various times throughout the cruise. For those interested, they also sell popcorn and treats for a nominal price before the movies (same goes for the evening performances).
The animal towels never get old
I mean, what child (or 38 year old woman!) doesn't love a good towel designed into a clever shape, all designed and left with Ghiradelli chocolates on our pillows. Yes, please. The kiddos have never seen the animal towel magic so each night it was fun to see what our attendant, Froi, created for us.
Take advantage of the Kids Club
Do not feel bad about dropping the kiddos off at the kids club. It's available for those ages three and up (there's also a nursery for the babies).
As a wise friend told me, do not immediately pick them up if they call you in 20 minutes. You can go to the kids club entrance and ask what's going on or tell them at drop off if you're doing something specific (adults-only dinner, spa, etc) so to only contact you if your kids are persistent (or hurt, of course!). If you pick them up the first day quickly, you're setting a tone for the rest of the cruise. The kids club has constant activities, the friendliest crew members and lots of places for them to explore in a very controlled, safe environment. The security is incredible as well; kids wear special wrist bands, you have a secret password, and while you can easily see inside, the gate locks behind each person.
Disney's private Island, Castaway Cay, is the best
Be sure to take the full day to enjoy Disney's private island in the Bahamas. Disney Cruise passengers get exclusive access to gorgeous beaches, an in-ocean playground/slides, splash pad, buffet lunch… and of course ice cream. There's also an adults-only beach and more.
It was incredibly windy the day we went, so unfortunately our ship didn't dock until nearly noon so we missed out on a few things (including lunch! They didn't have time to prep for it on the island). Alcoholic beverages, bike rentals, private cabanas, snorkel gear, and excursions are available for an additional charge.
One tip: if you've been a few times already, you can also take advantage of a very empty cruise ship! Enjoy short or non-existent lines on the slides and empty pool areas.
There are Adults-Only Spaces and a Restaurant
Just because it's Disney, doesn't mean the ship is just for the kiddos. There's quite a few adults-only areas, including a pool, a spa (we splurged on one service each and they were both incredible!) and certain bars and areas become adults-only after 9 pm.
There's also an adults-only private dining restaurant called Palo aboard each Disney cruise. It's an extra cost (dinner, for example, is an $30/person) but we heard it was worth it and were so glad we splurged. It was a nice break from all the family time (and other people's kids!), and the food and environment was stellar. We hear the brunch is incredible as well, and if your kiddos go to bed early, it could be a good way to experience it. Just be sure to plan ahead and don't book this dinner on the same night as the pirate-themed night (it's popular, and so cute to dress up as a family).
So there are 20 tips you might have not known about sailing aboard a Disney cruise. Did I answer everything? Feel free to comment below or message me with any additional questions. You are going to have the best time!
Room Service is 24/7
Nearly positive this is the same on most cruise ships, however if you're a cruise newbie, this is one of my favorites. Who doesn't love room service? It's even better when it's 24/7 and included in your ship fee. While breakfast is our favorite, favorite meal (I mean, that buffet is life — Adam and I were obsessed with the turkey sausage, and the donuts are Krispy Kreme, fyi!), however one lazy morning we had a pot of coffee, fresh fruit, and cereal delivered. It's also great for snacks, or late night if you want the kids to unwind, watch some TV and fill up in their pjs.
Want to save this first Disney cruise post? Pin the image below for a handy reference.