A weekend with the girls is so necessary. Forever ago my girlfriends Adele, Erica and Pam and I booked a weekend to Charleston, made very little plans — except for a few reservations — packed our bags and headed to this charming southern town that — at least according to my Instagram feed — has become one of the "it" getaway cities. We saw scores of bachelorette parties, celebrations, couples, and others enjoying all the bright pink walls, delicious food & beautiful sights that this peninsula city has to offer.
Keep reading for a girls weekend guide to 48 hours in Charleston.
So what did we do, and what do we suggest? We arrived on Friday at 4 pm (and ps: the flight from Ft. Lauderdale, Fla. was just a little over an hour — so quick!) so we had just 36 hours. I must confess, our entire "to do" list pretty much included what to eat…. a bit of a running joke during our entire trip. We also had to do a bit of improvising because this clumsy girl over here sprained her left ankle walking. Nope, not on the cobble streets everyone warns you about; on a regular sidewalk at about 9:15 am while taking blog photos (these photos, yup, was in insane pain and could barely stand!). Talk about mortifying. I legit couldn't stand, my right knee was bleeding and it was a disaster. Proof though that I brought the best, coolest friends in the universe: they bandaged my knee, wrapped my ankle, and helped me with everything.
Anyway, let's get into the fun! If you're planning a girls trip to Charleston, here's what to put on your itinerary.
A WEEKEND IN CHARLESTON – WHERE TO EAT & DRINK
167 Raw: We heard that 167 Raw's lobster rolls rival that of Maine so we naturally decided we needed a "welcome snack," and had our Uber driver quickly stop. Time permitting, I would have loved to stay and eat, because for the record, the lobster rolls are the best ever. The lobster rolls were meaty and not too creamy… perfect to really appreciate the shellfish. I'm craving this so much.If you're in a rush, order ahead (which we did), otherwise enjoy the casual ambiance and a cold drink. They also have great oysters, tuna burgers and more.
Callie's Hot Little Biscuits: your trip to Charleston will not be complete without a trip to Callie's. Pick from a variety of fresh biscuits and biscuit sandwiches (you must try the pimento cheese!), and they also have the cutest semi-bite size options with the best preserves (be sure to get some honey, too) you've ever experienced. The calories are worth it. Just be prepared to wait, particularly at the King Street location. We later saw an outpost at the Charleston City Market and the line was significantly shorter.
Hominy Grill: one of the most popular spots in Charleston for brunch (though they're open for breakfast, lunch and dinner)… you must get there early if you don't want to wait…  and be prepared that you likely still will. Super casual with a friendly homey vibe, try the shrimp and grits (paired with a bloody mary) and the Nasty Biscuit, fried chicken topped with cheddar cheese and sausage gravy. Super healthy. 😉 The restaurant has expanded over the years, and now boasts an outdoor pair and a walk-up window so you can grab a drink while waiting.
Eleve, at The Grand Bohemian: a gorgeous indoor/outdoor rooftop bar and restaurant with a super cool vibe (grab a seat on a couch or cozy chair). We hung here for nearly two hours, just enjoying the breeze and view, girl talk, people watching and our cocktails, which were out of this world, delicious.
O-Ku: a delicious spot for sushi with three locations (also in Atlanta and Charlotte), this was a last-minute dinner decision for us. We had reservations at McCrady's Tavern but between my sprained ankle and a super-full day, we were wiped. We instead grabbed cocktails at Eleve, our hotel's rooftop bar, ordered sushi (Adele and Pam Uber'ed to pick it up), and we legit ate in our room with hotel robes on… best, best, best. Sometimes going with the flow creates the best memories. Try the wagyu beef tartare, the potato roll (shrimp tempura wrapped in crispy shoestring potatoes),  surf & turf roll and the salmon lemon roll.
Peace Pie: it's ice cream sandwiches with layers of pie filling, and the outer "cookies" are made of pie crust. We loved each one we sampled but unanimously, you must get the Pecan Pie. So freaking good. True story: we went to this indoor/outdoor bar called Republic and instantly felt ancient compared to the college crowd. We left and a few blocks later, walked ourselves in here. Way more our speed. 😉 The perfect dessert, also right along King Street.
The Ordinary: absolutely one of the most popular spots in Charleston to get oysters and a host of other goodies. We saw on the second floor of this expansive space and enjoyed a plentiful array of oysters and even splurged on the caviar service (worth it!). Be sure to try the warm mushroom salad, and the steak tartare topped with crispy oysters. Such a fun girls night!
The Belmont: a huge, and creative cocktail list, The Belmont conveniently located on King Street was absolutely our favorite spot to grab a drink. It defines that bar experience you're seeking in Charleston with Southern charm and the most dapper bartenders (wink, wink). The cocktails were perfectly prepared, and the ambiance offers a vibe unique to others you have likely experienced.
The Darling Oyster Bar: located in a historic building right on King Street, the goal here is to grab a seat at the oyster bar and watch the experts do their magic. We got there right at 4 pm and lucky enough, there were four seats available and we had the best time enjoying refreshing cocktails and plentiful amounts of oysters during happy hour. This was likely one of our favorite experiences of the trip!
Lemonade Stand at the Historic Charleston City Market: I have no other directions but it's worth finding for the most refreshing lemonade ever. On a warm day, my Arnold Palmer (half tea and half lemonade) was what dreams are made of. Watch them squeeze the lemons right in front of you… I'm telling you, super fresh.
ALSO WORTH TRYING (we ran out of time, and space in our stomach):
Bin152: a must if you're a wine girl. An awesome wine bar perfect for a glass, or to split a bottle (or two) with your girlfriends.
Husk: this gorgeous spot is on every list but the more we investigated we heard dinner is very over-rated. We did hear that happy hour is well worth it so we planned to go for cocktails at the bar in a building adjacent to the restaurant. We ran out of time so it's definitely on my list for the next visit.
Leon's Oyster Shop: this topped our list however sadly we couldn't get there. Visit here for lunch to enjoy its serene outdoor seating, oysters, rose and the fried chicken sandwich.
McCrady's and it's more casual sister restaurant, McCrady's Tavern, are widely known as among the best spots in Charleston. We had reservations for McCrady's Tavern but decided to just bring in dinner at the last minute. Make a reservation here for a fantastic foodie's experience.
FIG:  also recognized as one of the best in the area for high quality that showcases the low-country cuisine.
Xiao Bao Biscuit: another spot I must visit next time because it serves up comfort food with influences from Asian countries including China, Korea, and Thailand. Yum!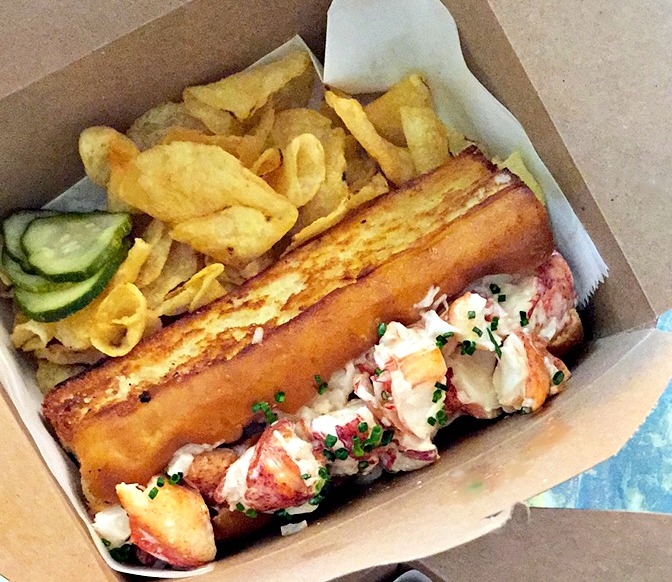 A WEEKEND IN CHARLESTON – COFFEE:
Black Tap: there's always a wait but you seriously cannot go to a Starbuck's while you're in town. Funny story: we planned to go but when we asked the concierge at our hotel, they made a comment, "oh yeah, it's the place by the jail." Umm, pass. Turns out it's decently far away from the OLD jail and insanely popular. I had wanted the lavendar latte BAD so instead got it at Rise, which was really close to our hotel.
Rise: a super cute local coffee shop at the base of the Restoration Hotel that's perfect to grab and go so you can walk the streets with caffeine in-hand. I loved my lavender latte (a subtle flavor) and a friend loved her cold crew coffee.
The Daily: a super cute marketplace with great coffee, quick breakfast bites and to-go salads.
A WEEKEND IN CHARLESTON – WHERE TO STAY:
Grand Bohemian: seriously the coolest boutique hotel with bright, bold colors, awesome artwork and a funky vibe, not to mention a great location necessary for a quick weekend. We enjoyed eating morning biscuits (that we got from Callie's Hot Biscuits) in the outdoor courtyard, plus there's an amazing rooftop bar, Eleve, and the cutest coffee shop.
Other recommendations: try Planter's Inn, Mills House (iconic pink walls), The Restoration Hotel and King Charles Inn (more budget friendly).
A WEEKEND IN CHARLESTON – WHAT TO DO: 
Historic Charleston City Market: sure, it's touristy but it's a fun way to stroll through some local vendors & pick up a memento from your visit. We registered for a tour and then popped back in here for 20-30 minutes. You can stay longer but there's really no need.
Take a horse-drawn carriage tour (they run about 60-90 minutes): if you're looking to get a relatively quick tour of the city, try one of the horse led carriage tours. Only downer: you can't pick your route. It's organized by the city, which determines your tour… this way, there are not too many tours in one part of the city. Makes sense but for example, we had a 1 in 8 chance of touring Rainbow Row and it didn't happen. After I sprained my ankle (oof!), this turned out to be the perfect (seated) option after brunch and before shopping along King Street.
Shopping along King Street (and Cannon): if you're in Charleston, plan to spend some time browsing the shops along King Street. In this case, avoid going in any national retailer you can find at home or online. We loved Moon & Lola, Bevello, The Impeccable Pig, Hampden Clothing (mostly browsing; this one is amazing but pricey), and Skinny Dip. If you have time, pop over to Cannon Street to check out the vintage jewelry shop, Candy Shop Vintage.
Battery Park: Absolutely an iconic, quintessentially Charleston spot… if only for the Instagram. 😉 This is where you'll find "rainbow row," the bright, beautifully painted homes you've likely seen everywhere. Walk along the water, perhaps bringing a snack with you to enjoy while there.
Relax at a roof top bar: I know it's tempting to see and do everything, but ultimately it's about enjoying a getaway with your girlfriends. In addition to Eleve mentioned above, be sure to put Vendue and Stars on your list and simply enjoy a relaxing hour or two with perfectly crafted cocktails delivered to you by Southern gentlemen. 
A WEEKEND IN CHARLESTON – GETTING AROUND: 
The two best ways to get around town are to walk and to Uber. The architecture is beautiful and there's no better way to enjoy (and photograph) the picturesque streets than by walking. For nights out and for bigger distances, we regularly utilized Uber, with each ride costing less than about $8.
Ready to plan your getaway? Pin this image: