Holy guacamole! April is flying by and I can't believe there's only about six weeks before school is done and I'll officially have a fourth grader and a kindergartener. [insert freak out face here!]
I know blog content has been slow here the past month or so and it's honestly because my full-time job in PR plus parenting and life has totally engulfed my time. Younger Alyson would have stayed up crazy late to get more content up here but I realized two things from doing that: the content is rarely quality, and two, my body pays for it. So, as much as it pains my Type-A self not to produce as much I'm equally so proud of myself for making a smart decision.
Ok, ok… so why you're here! Here's a bunch of random things I'm loving this month. For past Alyson's Favorites — favorite clothes, shoes, TV shows, books, home finds, randomness — you can click here.
WEAR THIS: Off-the-Shoulder Tee (here)
If you see me share my outfits frequently on Instagram stories, you know I've worn this tee soooo many times, so many times that I also purchased the grey and might need to go back for another color. At around $16, it's impressively soft, so cute, can be dressed up or down — think cut-offs and sandals, or white denim and bold earrings for date night — and is just one of those great wardrobe pieces you'll keep grabbing. Plus, it's subtly sexy without showing much more than a shoulder. 🙂 Another Amazon fashion win!
PS: I save all of my favorite Amazon purchases in my Amazon shop.
And please ignore the horrific mani situation (real life!), but wanted to mention those two rings from BaubleBar that are basically my every day pieces lately… that rainbow ring is amazing (BaubleBar is killing it with all the fun rainbow jewelry!!), and that X ring is the best.
READ THIS: 75 Powerful Words/Phrases to Say to Children
I've had this article up on my computer for weeks now and make a point of taking a using a positive phrase from here when I speak to Evan and Sarah. Instead of saying "you look so cute/adorable/handsome," or even simply "I love you," these positive words and phrases are so beautiful, thoughtful and really touch the core of your little one's heart, instead of something being tied more to his or her physical self.
TRY THIS: Ice Rolling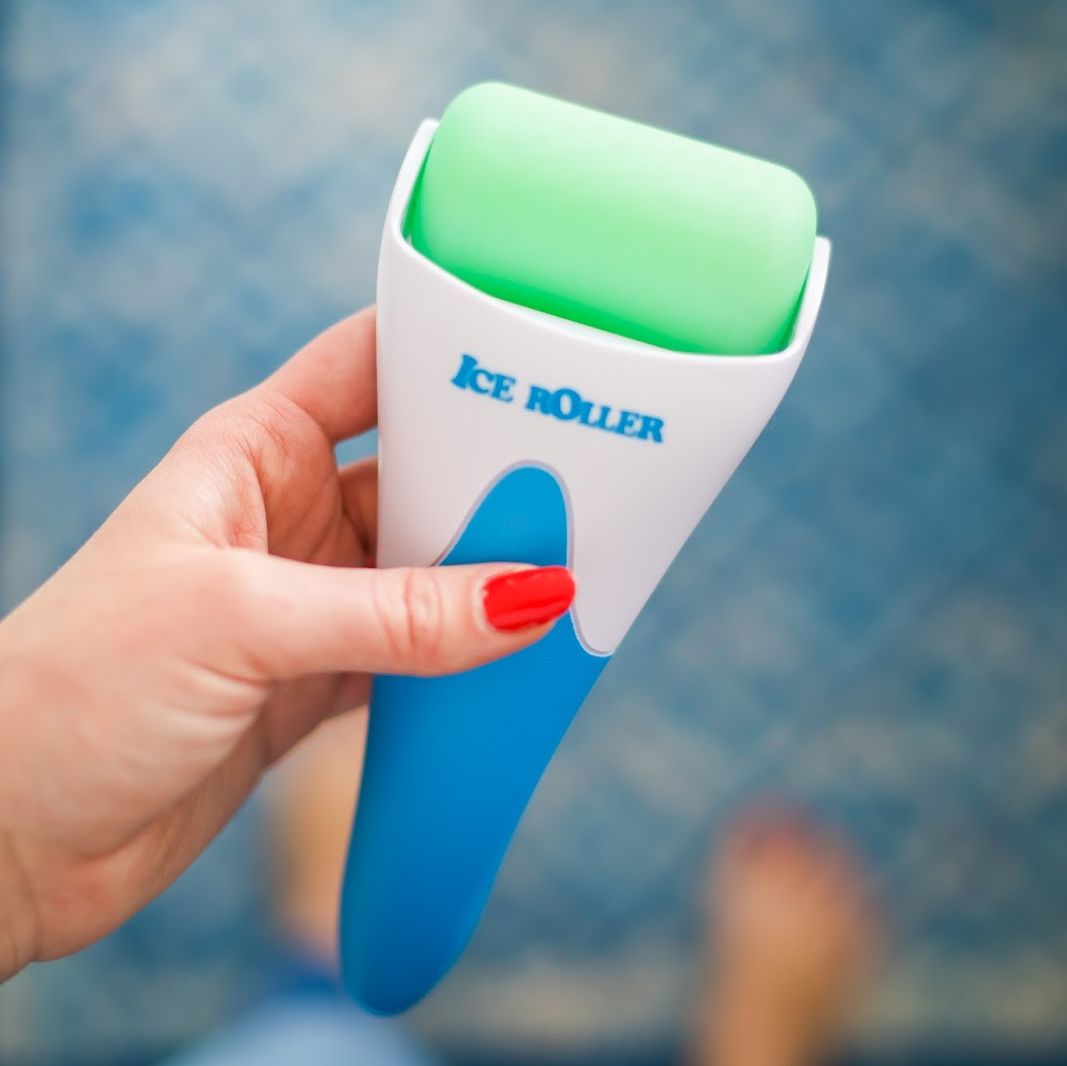 I've been hearing about people ice rolling, and/or using ice on their face — though did I know why?! Absolutely not, lol — but obviously immediately Amazon Prime'd this $12 ice roller to see what the hype is about, and, well, I get it now.
I use it for 5-10 minutes and besides feeling incredibly refreshing, it really perks up my skin, improves circulation, and is like a lymphatic massage: ultimately reducing inflammation and puffiness, redness, tiredness, etc. I love how it feels over my eyes, too.
When to use it? I use it in the morning, after I put on my eye cream, moisturizer, etc. Let that all sink in and then do the ice roller (in the evening works, too, if that's when you have a few spare minutes). I keep it in my freezer (in a little baggy so it stays clean). There are a million articles out there about benefits of ice rolling; this $12 find is a totally worthy addition to your beauty routine.

WATCH THIS: Catastrophe
Now that so many shows have ended for the season, I have been on the hunt for a new funny show. If you haven't watched some of my favorites — I'm Sorry, Younger or Shitt's Creek — definitely jump on these! However, Catastrophe is such a good new find. A British TV sitcom, it's about Sharon and Rob who have a one-night stand (well a week, while Rob's visiting London on a business trip), and she unexpectedly gets pregnant. They're funny, smart, and each "season" is just six episodes.
TO DO: Summer fun with your girlfriends
Don't let the summer pass without planning at least one or two really cool, fun hangouts with some of your best girlfriends, even if that means pain-in-the-ass travel or eating pb&j's to save up money to go (which for the record, I love eating so no punishment there!).
These two women — Sarah and Adele — are such good friends (for nearly two decades) that they let me drag them to Tortuga country music festival in Ft. Lauderdale a few weekends ago because I was dying, dying to hear my new country music obsession, Thomas Rhett, live in concert. We had the best time, laughed, danced, drank, got weird body marble paint done, had our feet in the sand, and fueled our souls. Oh, and Thomas Rhett was so crazy good. If you haven't heard him, trust me (he's like country pop).
TO WEAR: Alexandra Gioia Rattan Earrings
You know my love of local jewelry designer, Alexandra Gioia… well I recently added this pair of super cute, insanely light-weight rattan + mother of pearl earrings to my mix and I haven't stopped wearing them. I really love how they spring and summer-ify basically any outfit, and would also be a great Mother's Day gift idea, too. Isn't the rattan such a cool way to do a bolder earring (and again, in a way that doesn't weigh your ear down)?! Plus I love knowing I'm supporting a talented (and super kind!) female entrepreneur.
You can find more of her pieces here, and ps: these LOFT pants are a favorite new buy for spring (the shoes & top are older).
JOIN ME: Let's Meet at these Local Events!
Woah, May is shaping up to be an incredibly exciting and busy month for me and The Modern Savvy…. and I WOULD LOVE TO MEET YOU this month! I'm so excited to be part of a handful of incredible events that I'm so excited to share with you:
THURSDAY, MAY 2: Join me at Kendra Scott at The Gardens Mall in Palm Beach Gardens from 6:30 – 8:30 pm for a Mom's Night Out (everyone welcome!) with a 15% discount, bites & bubbly, and amazing women, plus you can make a Mother's Day wish list to make shopping easier for your loved ones. 😉
FRIDAY, MAY 10: I'm so excited to be co-chairing the Healthy Mothers Healthy Babies Moments luncheon at Mirasol Country Club to celebrate mothers and their incredible achievements. 300+ women attend and it's such a beautiful, fun event with the best auction, lunch, and this year, a really cool keynote by the women behind What Your Friends Won't Tell you (one of them is my counselor Shannon!). Details / registerhere.
WEDNESDAY, MAY 22: Meditation with Mother's May Wellness Series presented by Publix! Get ready for a FREE hour-long class where we can focus on ourselves, meditate, meet other women and enjoy some very necessary inner peace. PLUS, there are events happening weekly throughout all of South Florida: click here for details by city.
THURSDAY, MAY 23: Join me for "Rising Above: Overcoming Life's Obstacles," a panel conversation with me and Leslie Streeter, a journalist at the Palm Beach Post (and awesome women I've known for 15 years) whose husband passed away suddenly a few years ago. This event has particularly meaning to me, and I am confident it's going to be an incredibly motivating and empowering evening where we will also give guests the tools and insights we've learned by navigating our obstacles. The event is led by Capital Strategies Women's Forum and is a $30 donation, with all proceeds benefiting Healthy Mothers Healthy Babies. Get more details and register here.
Really, really hope I can see / meet many of you in our local Modern Savvy community – mark your calendars!