Mac and cheese is delicious but serving up a non-boxed version for dinner on a day with crazy night time schedules?! Not happening. You need quick, fast and easy… and extra points if it's portable.
Enter mac & cheese muffins!
I'm so excited to continue my partnership with Castello Cheese to bring you these delicious little guys that are perfect for the weekday hustle… or if you want a lazy night on the couch with wine and the Real Housewives. This is a no judgement zone.
In our house, Evan lives for mac & cheese. He'd eat it nightly if we let him. But man, watching a four-year old eat mac & cheese can throw my clean, Type A self over a cliff. I know, teaching him independence and fine motor skills but lord help me, it's such a mess.
Castello Cheese has so many delicious recipes on their site — everything from slow cooker recipes to a range of heavenly cheesy recipes that I literally wanted to jump through the screen to eat. To be clear, I don't think my life will be complete until I try Castello's raspberry & Nutella stuffed grilled cheese.
I pick up Castello Cheese from my local Publix in the deli/cheese section.
Ready to roll? Let's do this.
You're going to start here: 
And end here… 
Amazing, right? 🙂
RECIPE FOR MAC & CHEESE MUFFINS
⅔ lb. stortini pasta
1¾ cups milk
2 eggs
4 oz Castello® Extra Mature Cheddar
4 oz Castello® Aged Havarti (or, more cheddar)
1 ounce corn starch
3 tbsp olive oil
3 sprigs rosemary (fyi: I didn't use for kids)
2 tbsp breadcrumbs
1. Preheat the oven to 375°F. Meanwhile, cook the pasta in salted water until al dente.
2. In a bowl whisk eggs, milk and salt and pepper. Grate Castello Extra Mature Cheddar and Castello Aged Havarti and mix with corn starch. Stir the grated cheese with the egg and milk mixture.
Note: grating takes a little extra time up front but the freshness and flavor of freshly grated cheese is so much better than pre-shredded. 
3. Drain the pasta, take the pan off the heat and add the cheese batter. Make sure to stir constantly to avoid the eggs from scrambling. Pour the mac and cheese into a muffin pan or in muffin cups.
Note: I got this silicone muffin pan on a whim at Target (impulse purchase FTW) and oh my gosh, if you don't have a silicone muffin pan STOP what you are doing and order it. You can get one on Target or Amazon or stalk one out at Homegoods… whatever it is, get it.  Muffins come out so easily.
4. Mix olive oil, finely chopped rosemary and breadcrumbs. Top the muffins with the breadcrumb mix and bake for 30-35 minutes at 375° F.
That's it… you have dinner for days!
How good do these look? I omitted the rosemary for my kids, even though it would look prettier and I'd love the taste… I just knew they wouldn't eat it with green specks on top (insert eye roll).
Once you make these mac & cheese muffins one time, you'll see how the options are endless. They'd be so fun for a casual dinner party or football game party. Try them with bacon, with cauliflower, crab or lobster, you name it! Castello has so many awesome mac & cheese recipes on its web site worth exploring.
I love, love the idea of having something satisfying and meal-like in my fridge ready to roll on a busy week night. I heat them up for two minutes in our toaster oven and be out the door.
By the way, not to be fanatical but see how clean the muffin tins look where I took the muffins out? I didn't clean them… that's the magic of using this silicone muffin tin. Game changer. Get one at Target or Amazon and thank me later.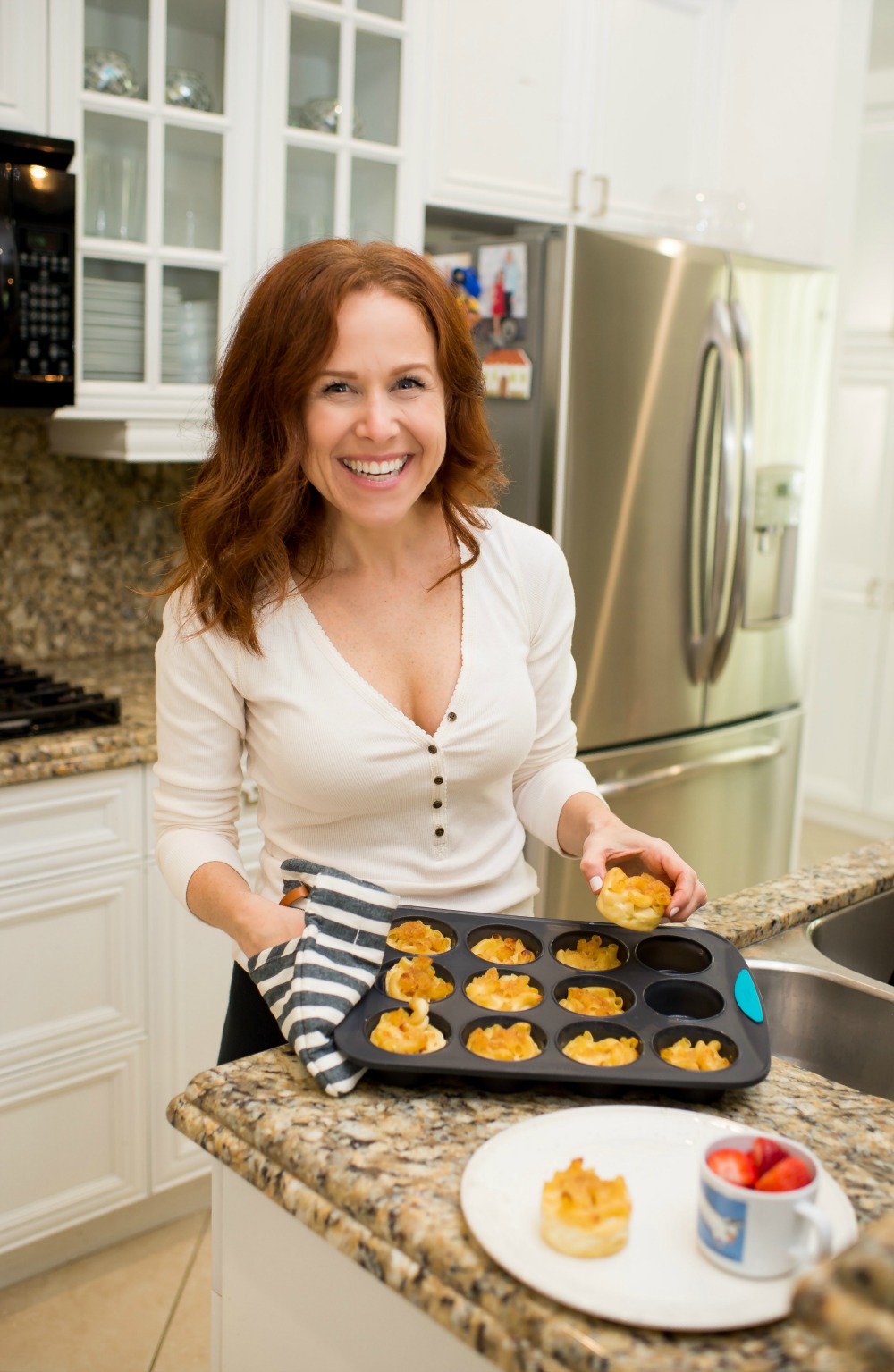 Asking Evan to pose doesn't always yield the most natural smiles…
But here you go! Imagine eating regular mac & cheese in the car… never.
Thank you to Castello for sponsoring this post (and adding such delicious cheeses to my life!). Check out its nearly 50 cheese varieties here.  All opinions are 100 percent my own.
Loving this mac & cheese muffins feature? Take a look here for more of my life favorites!
photo credit: Erica Dunhill