I can't believe how overdue this post is considering I'm pretty local to West Palm Beach… we moved to West Palm Beach in 2005 and have lived just slightly north the past eight years or so. As much time as we spend in the city (i.e. nearly daily) it wasn't until recently that I finally enjoyed a girls weekend with some of my best friends in one of my favorite cities. Not only was it so much fun, I can adequately say it's completely worthy of an entire weekend… whether as a staycation or if you're flying to the area. By the way, PBI airport is basically my favorite in the universe; it's so quick and easy and about six minutes from Downtown West Palm Beach.
For a weekend or navigating around here in general, here's the best (and shockingly, little known) tip: the streets in the core of Downtown West Palm Beach are named after flowers or plants… and they're alphabetical: Banyan, Clematis, Datura, Evernia, Fern, Gardenia, Hibiscus!
Ok, now let's do this. For a girls or couples weekend in West Palm Beach, here are all the best things to do, see and eat. So get that text chain going… you and your besties have some planning to do!
THE ULTIMATE TRAVEL GUIDE TO WEST PALM BEACH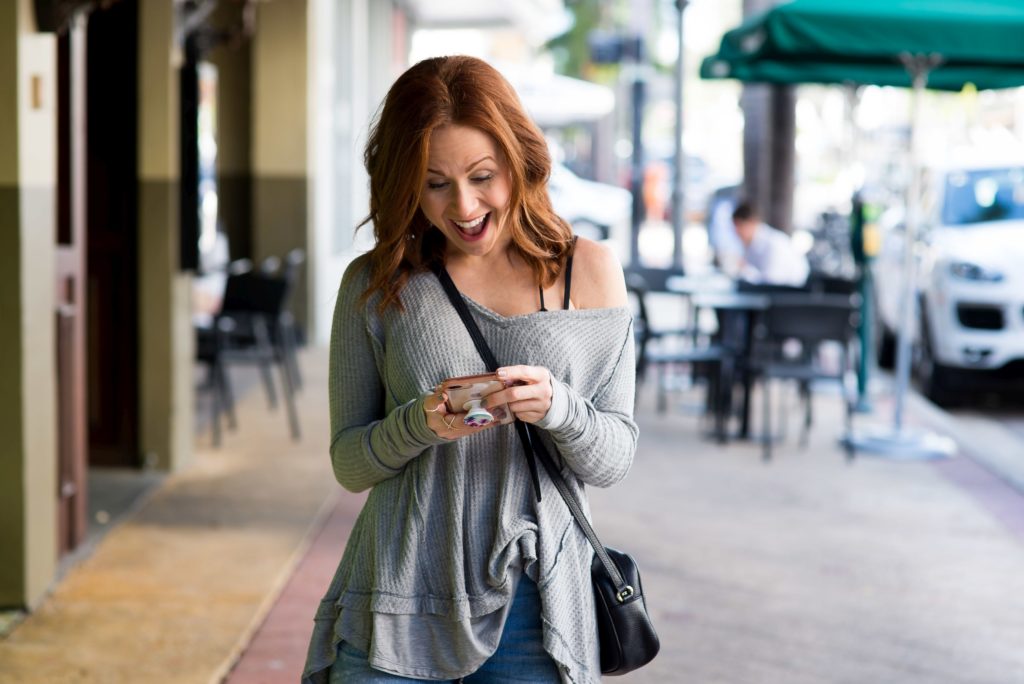 THINGS TO DO IN WEST PALM BEACH
Head to the West Palm Beach Greenmarket:
if you're here "in season" (October through May), make it a priority to get to the city's Saturday morning GreenMarket, filled with more than 70 vendors including fresh fruits and vegetables, prepared foods, great bites & everything in between. Be sure to try the cider donuts, by the way! The market is located at the base of Clematis Street by Flagler Drive. It's the perfect way to get your morning started and enjoy some people watching at the same time.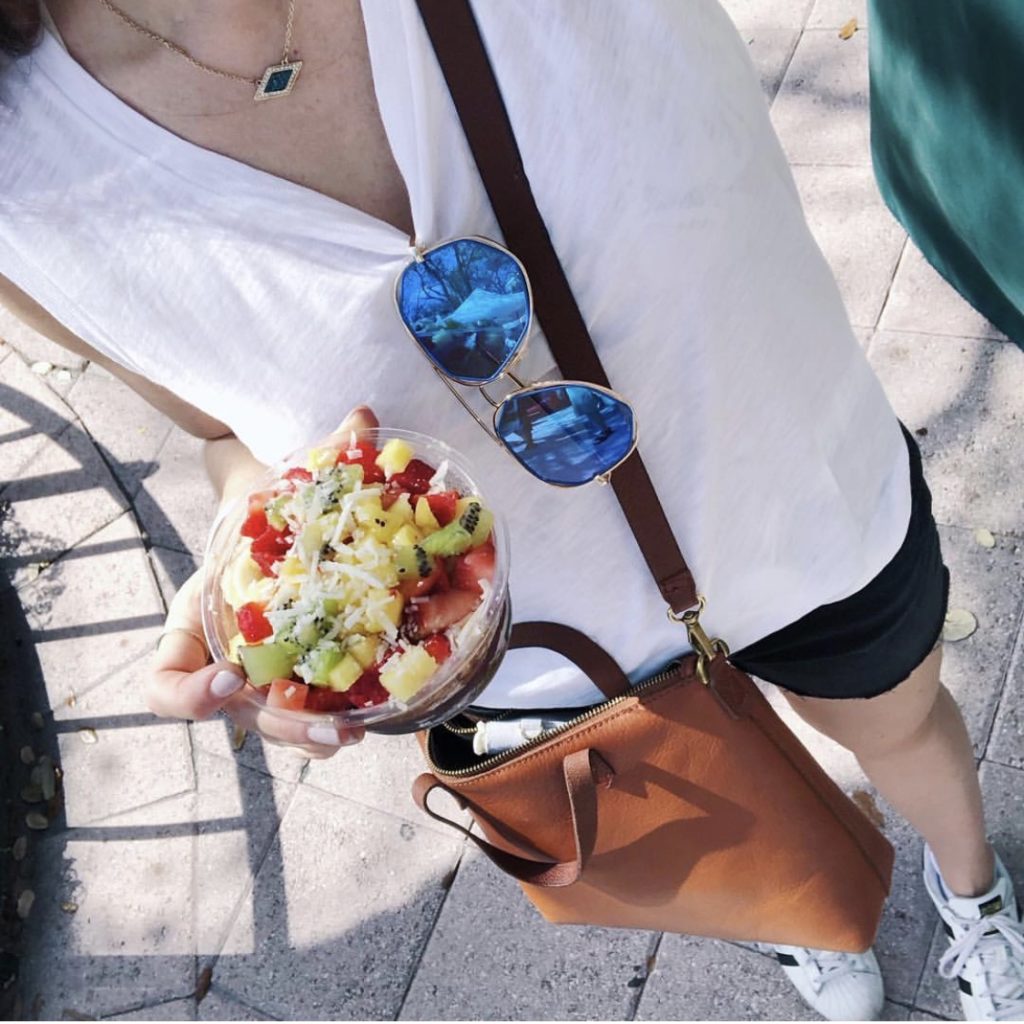 Walk around CityPlace and Downtown West Palm Beach:
often the best thing to do is check out a city by foot. CityPlace is the more national brand outdoor center filled with retailers (Anthro, H&M, etc) and restaurants, while the hub of Downtown West Palm Beach is known for its homegrown businesses. You can walk or take the free trolley to easily go between locations.
Enjoy the Waterfront:
Take a walk along the Flagler Drive waterfront (there's a spacious walking path) or make the most of your waterfront weekend thanks to Visit Palm Beach, which offers rentals like jet skis, paddle boards, and kayaks, plus evening cruises & more.
Norton Museum:
for a dose of culture, the Norton Museum just south of Downtown West Palm is a must. The museum is currently undergoing a massive renovation and expansion, however exhibitions are still happening; check the site for info.
Head to Palm Beach:
right over the bridge on the other side of the Instracoastal is home to Palm Beach, one of the most affluent communities in the world. Bring your bathing suits to spend time at the beach, or enjoy a stroll along Worth Avenue, home to all the designer shops (pop into Pizza al Fresco for lunch and then head for a sweet treat at Piccolo Gelato — all in Via Mizner).
Another newer Palm Beach destination is The Royal Poinciana Plaza (The Royal) on the northern end of the Island, which as locals keep talking about has undergone such an incredible transformation so quickly. Grab a fancier brunch or lunch at Sant Ambroeus (also a fantastic Instagram spot!); or grab a cocktail and bites at the new Honor Bar, the sister spot to Palm Beach Grill (one of the toughest reservations in town). There's also upscale shopping here, including Hermes, Cynthia Rowley and Theory, and one of my new favorite spots for hair, Paul Lebrecque (ask for Hector — he's the one responsible for my shiny and vibrant gloss/varnish, and gives the best blow outs ever).
Go to the Antique Shops:
whether you're shopping for home or your wardrobe, the consignment and antique shop scene here is among the best. Northwood Village in West Palm Beach (just north of Downtown) is awesome for fantastic finds, and you can't go wrong by treating yourself to a shake at Relish while you're there. Head to "Antique Row" — also known as Dixie Highway — for vintage shopping at its best. City Girl Consigment is a favorite for great designer clothes & accessories, and there is so much more for your home. As a heads up, you likely need a car to make this feasible. Top spots include Mecox, Heath & Company, Elephant's Foot, Circa Who and even places that could be home to hidden gems like the Peggy Adams Animal Rescue League shop.
…. if you go to Antique Row, stellar eats include Cholo Soy and Belle & Maxwell's.
Go Outlet Shopping!
The Palm Beach Outlets is only a few years old and such a great spot. If you're staying in Downtown WPB, it's an easy seven-minute drive and a fun way to spend the afternoon with your girls. The J. Crew Factory, Saks Off Fifth, and Banana Republic are favorites, and also part of the outlets in a detached building you must take advantage of DSW, Nordstrom Rack, Old Navy & Ulta.  The Whole Foods is also incredible (seriously, best salad bar situation of life!) and a great way to stock up your room as well.
Do a Food Tour:
What better way to experience a city than through your belly, amiright?! I've heard such great things about the West Palm Beach Food Tour  and is on my personal list as well.
Visit Flower & Fringe:
if you have the convenience of a car, be sure to stop by Flower & Fringe, located at 310 S. Dixie Highway, a super cute floral shop that's also perfect for the 'gram. It's a great stop if you're visiting anyone, and they host workshops with lots of fab businesses in the area… worth checking in advance of your stay.
Check the schedule at Kravis Center & Palm Beach Improv:
always worth checking out to see if there's a fun show or comedian planned during your trip! You can find Kravis here, and Palm Beach Improv — located at CityPlace — here.
Explore the West Palm Beach murals:
the art scene has taken major shape here in recent years thanks to Canvas (an outdoor art show where artists, muralists, etc created masterpieces throughout the city). Perfect backdrops for your photos and a cool way to explore the creative component of the city, you're destined to see cool art pop up all over the place… even under a bridge or two!
WHERE TO EAT / DRINK IN WEST PALM BEACH
Subculture: if you love to experience a local coffee shop, be sure Subculture is on your list. Located on Clematis Street, this super cool spot with a hipster vibe dishes roasts their own beans and dishes out strong cups of coffee and all the caffeine, plus always has great light breakfast and lunch fare. You can also get wine and beer, and be sure to check out the super cool Einstein mural in the adjacent alley/walkway (featured above).
… another great coffee shop: Johan's Joe.
Field of Greens: if I'm Downtown around lunch time, I'm usually at this spot that's been around for more than 15 years and has a huge following. Great for breakfast and lunch, I've had everything from the acai bowls to breakfast sandwiches, salads, or sandwiches, and they have a huge make-your-own salad bar option as well, plus daily specials that I get nearly every time. There's also juices and smoothies. Everyone in your group will be happy with this spot.
Chickpea: located right next to Field of Greens, it's basically like a super fresh Mediterranean version of Chipotle. Go down the line to pick your bowl/pita/salad… I'm seriously obsessed. If I'm not at Field of Greens, I'm here.
Grandview Public Market: one of the newest additions to the West Palm Beach scene, you must head to Grandview, our new chef-driven food hall. It's slightly on the pricey side (IMO), but I haven't been disappointed yet. You can go anytime during the day — Rabbit Coffee is the best if you're going there early or need a mid-afternoon boost — and I've tried nearly every spot there (there's about 15, plus a cute little shop). At The Corner, you must get the mushroom pizza. Trust. And, the salmon pokerrito (like a poke bowl in burrito form) is so delicious. Wine and beer is served, and there's live music at night. Check out the web site for the full scoop.
Mazie's: the just-opened Mazie's has been getting lots of local hype. Walking the line between 'diner and bistro' the eclectic menu offers a little bit of everything, including comfort food, fresh fish and eclectic dishes, as well as Sunday night Chinese food take out (I must do this!). The indoor/outdoor space will be open for brunch and lunch as of May 3.
Paris Bakery Cafe: such a charming, delicious spot for breakfast or lunch, this quaint location is a popular one for locals who love the fresh quiches, salads, sandwiches and more.
Restoration Hardware: are you thinking why is a furniture store under the "eats" category? Good question, and here's the answer: there's a stunning, a delicious, and super chic restaurant atop this amazing new space. It's only open until 7 pm, so consider it for lunch, or do what we did: head there for cocktails and enjoy the breeze on the gorgeous outdoor rooftop patio. We sat for about an hour… one of the highlights of our time together. You can also take your cocktails to the downstairs patio, and sink into the cozy couches with chandeliers above.
In related news, how adorable are my girls Dori and Sarah? 🙂 We're all sorority sisters and both were bridesmaids in my wedding back in '04!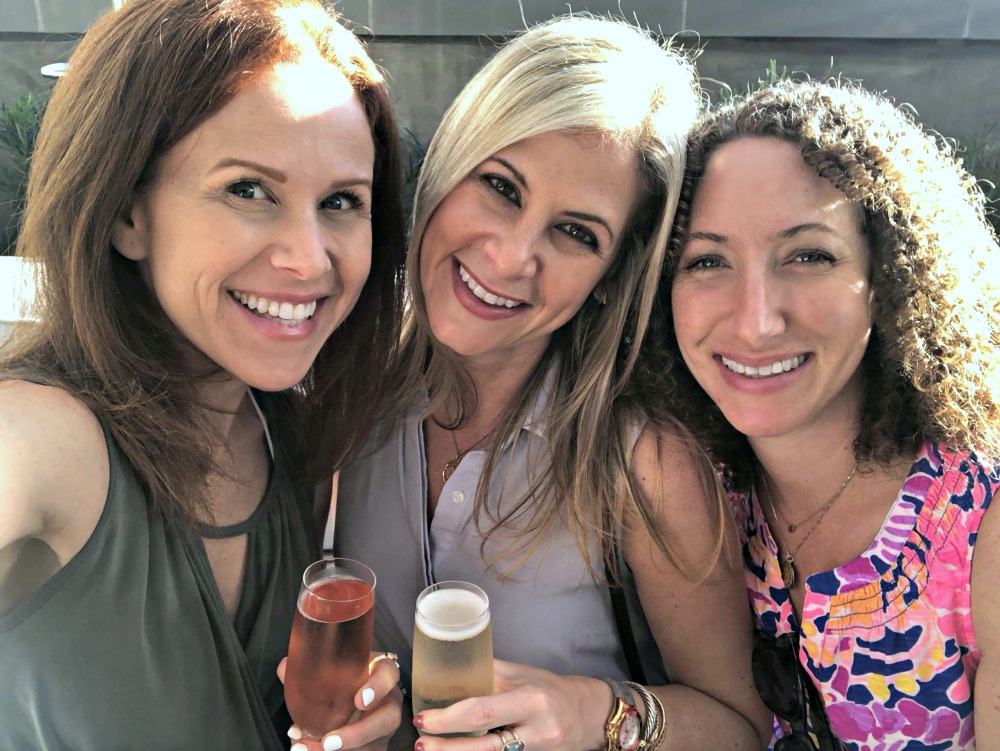 Lynora's: an awesome Italian spot with two locations (the other is north in Jupiter), this is a fun, lively spot with a great menu perfect for sharing. We had the yummiest dinner here… I would have never ordered the lasagna however our server suggested it. GAME-CHANGER. I now dream about this super light, crepe lasagna in a bolognese sauce. Be sure to also try the pesto gnocchi, chicken parm, and any of the fresh-made salads.
Avocado Grill: a popular spot for lunch, dinner or weekend brunch, it's perfect for sharing, too. We love nearly everything on the menu and are now regulars at its second location further north at Downtown at the Gardens. Be sure to try the mushroom empanadas (and don't share: I'm never willing to!). 😉
Rocco's Tacos: a Downtown WPB institution at this point, it's best known for its cool ambiance and table-side made guacamole. If I'm being honest, I don't think they have the best Mexican in town BUT I do love the vibe, and their chips had the tastiest seasoning. I'll often get chips and guac, and then share the Mexican cobb, ceviche or fajitas with friends.
Rocco's is also a great after-dinner spot to hang by the bar.
Grato: A small drive south from Downtown WPB, this popular casual Italian spot with an industrial warehouse vibe is hugely popular with reasonable price points. I've been for both dinners and brunch and haven't been disappointed yet.
West Palm Beach Brewery: another spot that's just about two months old, it already has a great reputation and plenty of great drinks on-hand. WOrd has it that the private label wine at at the brewery is on point, too, and bottles range from just $19-$35.
Panetierre: also located on Clematis Street, this little spot is perfect for sandwiches on the go, or to treat yourself to a little french dessert (hello, yummy macarons!).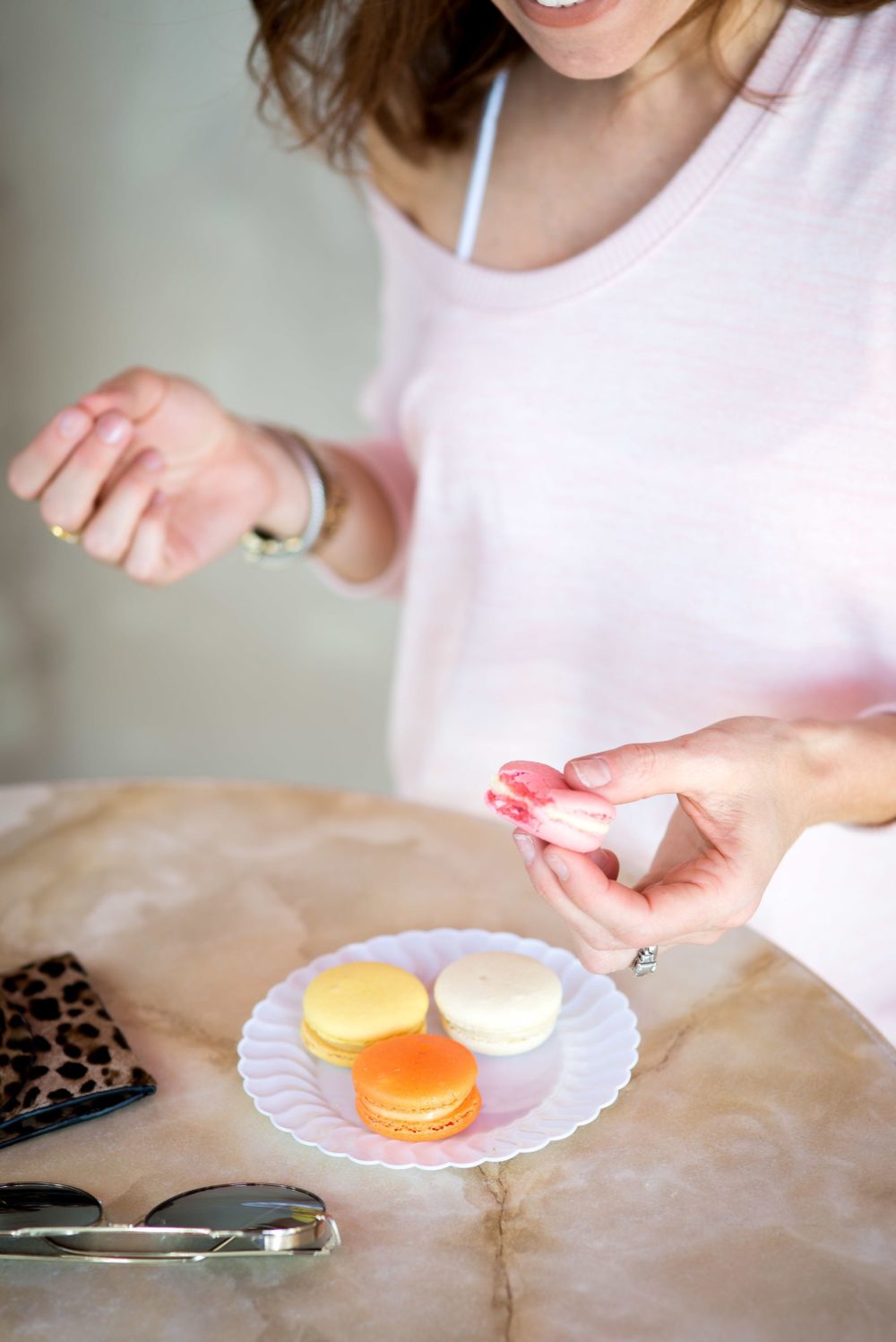 E.R. Bradley's: one of the oldest spots that's located right on Flagler Drive, enjoy indoor outdoor seating and a super casual vibe for casual American fare. The food is pretty good, you can look at the water and they've made their waterfront "yard" pretty fun lately, too, with new hammocks and seating, plus a giant Adirondack chair. Come here anytime, or stop here for a drink at its expansive bar area.
OR… Hop over to Palm Beach via Uber (it's about $5) for any one of these favorites:
Buccan: delicious tapas; book in advance! It's one of the most popular and lively spots in Palm Beach, with an equally great bar scene.
Imoto: absolutely, without question, the best and freshest sushi in the area.
The Breakers: Totally worth going to HMF for the best people watching and delicious cocktails and fresh sushi/bites. Also a fun spot to grab a drink pre- or post dinner.
AND: have a budget and want to do the most epic brunch of your life? Book the Sunday brunch at the Breakers (will set you back around $125/person)… it's one of those experiences you'll talk about forever. If you're visiting for a major birthday, I'd suggest considering this splurge.
WHERE TO STAY IN WEST PALM BEACH
For a long time, there was so much talk about the far-too-few places to stay in Downtown West Palm Beach. You're in luck! In recent years (in addition to doing AirBnB, of course), a few fantastic new options are now available.
Residence Inn: So, I must confess we stayed here after frustratingly finding nearly every space completely booked during Presidents Day weekend. Well, the joke was on everyone else. We had the best, best experience, with an awesome, spacious one-bedroom suite with kitchen (I of course brought my favorite Trader Joe's eats & drinks!). It's located right in the heart of Downtown West Palm Beach & CityPlace, so we could walk everywhere so easily.  Our stay also included breakfast & a coffee bar. Winning!
Hyatt Place: another centrally located hotel near the Residence Inn, it's a modern space that will have you anywhere fast.
Hilton West Palm Beach: the new "it" place to stay (I've had multiple friends do staycations here), this chic hotel with a central location and great pool area, is a perfect spot for a girls weekend.
Hibiscus House: for a bed-and-breakfast, the Hibiscus House is a charming spot with a great location. Pick your room in this spot that's a 1917 restored home. The grounds are lush, with a great tiki bar on property. What's more prefect than that?
Ok, so that covers it for West Palm Beach. Actually, I'm not sure I fully covered how gorgeous, happy and sunny this wonderful city really is. I mean we have palm trees, sunshine, warm weather and beaches, all with a growing culinary scene and so much to do… or not do (just bring your bathing suit). I know anyone who lives nearby feels completely lucky to say we live where most vacation. If you are looking for somewhere new, easy, affordable and fun to visit… West Palm Beach is waiting.
Want to save this West Palm Beach post? Pin the image below for an easy reference!