It's been more than a hot minute since I shared one of my boxes from Trunk Club, the Nordstrom personal styling subscription service so since many of us are looking to fall style I thought it would be fun to share what was inside my latest delivery; along with some of favorite Florida Fall fashion ideas.
I've been in the market for a few fresh Florida Fall fashion items so I asked my Trunk Club stylist, Maddy, to create a trunk around that theme, though you'll see below there are pieces perfect now for any climate. There were some hits and misses, though I'm super excited about what I tested, and added to my closet. Before we get started with the try-on session, session, two things: this is not sponsored in any way — I wish it was! Hi there, Trunk Club! — just a service I use and love. And, if you're wondering exactly what Trunk Club is…
WHAT EXACTLY IS TRUNK CLUB?
Trunk Club is the Nordstrom subscription styling service. You can determine your parameters like style, budget, needs: work/athletic/date night/travel, etc — and then a stylist curates a trunk filled with items available at Nordstrom that you can test in your home, keep what you want and return the rest. Before you even receive your trunk you review it online and opt out of any item; for example, I usually omit any top over $100 because I don't even want to love it, ha, denim too similar to what I might have, etc.
The service is free for Nordstrom card holders, and $25 otherwise, which you can use as a credit toward any item you keep. What's cool is that you can request specific items; for example, I requested she include this Reformation midi dress that I've wanted to try but haven't yet purchased. This way, no pressure to front the money if I don't love. Does that make sense?
Each Trunk comes mailed directly to you (images in my previous reviews, here), and with the itemized document below — super convenient that it includes sizes, prices, brand, etc.
Again, this post is not sponsored in any capacity; I do get credit with Trunk Club if you shop through my referral link, so if you decide to test out the styling service I'm super grateful if you click through my link.
So, here's my Florida Fall Fashion 2019 Trunk Club review…
As a heads up, I'll be posting on Instagram Stories video reviews of each item so you can get a better / 360 degree view perspective.
How cute is the kisses print tank? I adore it, the bright pink and the boxier cut. I wanted to try it with a complete Trunk Club outfit, however I honestly prefer it paired with a darker. higher rise denim, or with leggings for running around. If you like the print but not the silhouette, try this grey tee — it's so cute.
The Articles of Society jeans are so super soft, stretchy and fit well, and they're currently 40% off and now under $40! They're a lower rise than I candidly prefer however if you prefer a lower to mid rise, this is an awesome budget friendly pair. I already have a pair of grey denim — I love wearing them with a basic white or black top, so I opted against keeping these.
And, lastly, the Stan Smith sneaks… I've wanted to try these for ages and they totally live up to the hype. Love the clean, all white aesthetic. I didn't keep them this time — hey budget — but they're on my list for my next casual sneakers purchase. I also love how they look with dresses, as you'll see below.
The jeans on the right are Madewell that I got during the Nordstrom sale (I tend to size down in Madewell denim); this and this are great alternatives.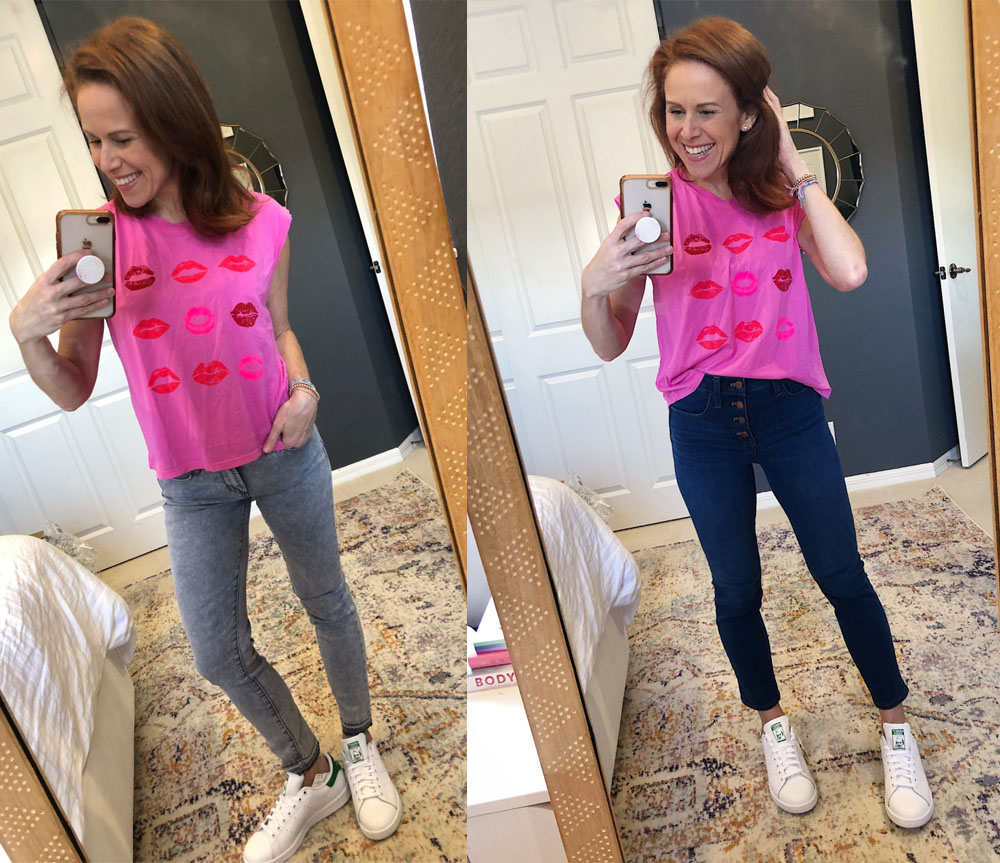 OUTFIT TWO: Rust colored lace camisole (size small)
The best way to do Florida fall fashion is with color. And rust is perfection for fall! Wear this on its own like this, or with a blazer or cardigan for work. I'm wearing a size small but need to size down; I'm thinking of ordering it now that I noticed it's 40% off! Also comes in a light ivory. Find it here.
… paired with my Gorjana star necklace and denim.
OUTFIT THREE: Gibson smocked top (wearing XS)
This top is such a great example of something I'd never, ever try on and yet really loved. It's currently on sale and available in a few prints. I almost kept it but the neck hole is honestly a little small (I also have a big head, so?!). If you're looking for a similar top, I also love this one under $50.
… paired with Madewell denim, and favorite new Ann Taylor kitten heel pumps.
OUTFIT FOUR: J.O.A. Tie Dye camisole (size small)
Keeper!!! I'm SO obsessed with this wear now and wear later tie dye camisole — what a fun way to take this print into the fall! I've already worn it with white denim and later, with darker denim. It's so silky, a little bit sexy, and yet, doesn't dip too low in the front. The straps are also adjustable. Not to be dramatic but yeah, everyone needs this.
… paired with Madewell denim, and my favorite new Ann Taylor kitten heel pumps.
OUTFIT FIVE: Floral boho top (size small) with Sam Edelman Hazel pumps (the best… just not in this color)
Sorry for the fuzziness of this photo; I forgot to take a photo so it's pulled from video. The top is fun, as it's out of my comfort zone, has some cool details like a fall floral, a lace-up detail (not showy), and a flattering smocking/peplum vibe. It's another top that's light-weight and you can wear with basically any color denim. This color is sold out, however I happen to like the black version available even more.
Heels! Have you tried Sam Edelman's Hazel pumps? I have them in nude (seen below), leopard and pink because they're that fabulous, well made, comfortable, not too pricey heel that's available in every color and print imaginable. Seriously, I just looked and Nordstrom must have at least 40 options! I personally cannot handle this yellow, lol, but if you're looking for a pointy toe heel, I can't say enough good things about this style.
OUTFIT SIX: Chelsea 28 Dot print dress (wearing XS)
How stinkin' cute is this dress? I absolutely love this modern take on polka dots and this burgundy red color, again another fall color in a light-weight silhouette you can easily wear this fall. As you can see, the XS was just a little tight in my chest otherwise I would have for sure kept this; I have nothing like it in my closet and can immediately see being able to wear it a variety of ways. I paired it with a denim jacket below, though I'm imagining how cute it would be with a cozy slouchy cardigan and booties.
…. paired with Sam Edelman pumps and denim jacket (old, similar here or here).
OUTFIT SEVEN: ASTR ruched mini dress (size small)
OBSESSED. So I didn't keep this only because I NEEDED the Reformation dress below and don't have an immediate occasion for this one. That said, it's already back in my Nordstrom cart (our secret!) because it's one of those beautiful, interesting dresses with the fun floral print, ruched detailing (click on the image to get a better look, it's SO pretty!), some slight shoulder detail, and just has that cool girl vibe. I'm shocked it's not more than $85. Plus, the fit is awesome… fitted but not too tight.
This fall, pair it with black booties and a moto jacket for an edgier vibe, or even black strappy heels, and hoop earrings. Star necklace here.
This dress SO lived up to my expectations! It's this luxe stretchy cotton WITH POCKETS that has this insanely flattering fit that floats away from your body, with a slightly rounded/square neckline and it's just under $100. Reformation, a newer brand with an awesome reputation, was picked up by Nordstrom last year and I've been dying to try a piece. Some of their dresses are $200+ so I asked my stylist Maddy to include this dress in my cart (see, testing without purchasing!). It was immediate love.
This is that dress you'll always grab for, especially for travel or when you have a date night or a happy hour or just something when you don't know what else to wear because it has endless possibilities, and will make you look and feel so good.
Can you tell I'm really, really pumped about this purchase? 🙂 Denim jacket is older; similar here or here. Star necklace here.
SUNGLASSES: Quay x Desi Perkins (comes in lots of lenses options) // BP
Once you review your Trunk before it ships (a great opportunity to veto anything; I often do so with any top over $100 because I know I'll never keep it), you can now add a few select accessories to your cart.
I opted to test two similar pairs of black aviators.
Quay X Desi Perkins mini 57 mm: these have nearly 10,000 five star reviews when you add up all the lenses options, and are an awesome find for about $65! I'm personally not as into this black gradiated lenses though how cool is it with the gold lenses? Personal preference. It also comes in solids, and a larger 62 mm lenses. You can check them all out here; just not the various lenses size before purchase!
BP 60 mm lenses: I love these, even more than I thought I would and they're such a win at under $20 shipped! They come in four colors (including frameless), fit great, not too small or big, and I'm a sucker for cool glasses that I won't freak if they scratch, break, leave them somewhere, etc.
Star necklace (ordered on Amazon over the holidays) here. Fact: it's one of the item questions I get asked most about!
Here's everything; click on the image to go directly to the piece:

So what do you think? Any pieces you love for fall? If so, make sure to share in a comment below! Also, have you tried Trunk Club yet?! When you do, I'd love to hear your feedback!
And, if you decide to test it out or shop any of these items, I'm always grateful when you shop through my links where I get a small commission on each purchase.