I'm not about to get dramatic — after all, it's a sale — however I know so many of you love the Nordstrom Anniversary sale (#nsale). Mainly because there's a temporary discount on new items before they get marked back up a few weeks later. Awesome!
The Nordstrom Anniversary Sale opens today to Ambassador level, on Friday to all Nordstrom card holders and on July 19 to everyone. Then prices go back up August 5. But, I'm not about to tell you to spend money you don't have. Over the years I've gotten some MAJOR gems I still wear and love, and others that I bought because I went sale crazy. Don't do that.
NORDSTROM ANNIVERSARY SALE 2019 LOOKS AND FINDS
FOUR RANDOM NORDSTROM ANNIVERSARY SALE FAVORITES:
Spanx faux leather leggings: year after year these are a top seller and for many of us, myself included, a wardrobe VIP. I wear them constantly, with sneakers daytime, for travel, dressed up with booties and a longer top at night, legit everything. Last year I remember people constantly trying to find them online on sale elsewhere come winter when they saw other poeple buying them.
Denim: now what type of denim is up to you; two of my favorite denim brands at the moment are Madewell and Good American. They're less than most designer denim and even lower during this sale. I LOVE both brands, the quality, construction, fit, washes, all of it. AG and Frame are also great, and for lower priced denim, try the Wit & Wisdom; they're more of a mid rise (I tend to like a higher rise) but that's your jam, the fit is fantastic and they have this awesome waistband to prevent muffin top, or your pants from falling down. WINNING.
Towels: random right?! Well omg, ladies, I replaced my ancient towels two years ago with these in white, and then purchased a few more last year. They're so plush, dry well, don't shed, and still look brand new. Not the most exciting purchase but getting out of a shower into a cozy towel is basically the best feeling in the universe so I have to share.
Kids Shoes! I get my kids new sneakers and boots (or something) every year so why not do it a few weeks early and get a discount on it?! It's honestly one of the best deals of the Nordstrom Anniversary Sale because if you're a mom you likely need to get it. I'm getting Evan these adorable velcro Van's, and Sarah these Treasure & Bond booties (She loved hers last year). I need to take a closer look but those two are definites.
LET'S DO IT: THE NORDSTROM ANNIVERSARY SALE 2019 FITTING ROOM TRY-ON SESSION
As I mentioned above, I didn't go crazy because…. it's a sale. But I am excited to show you some really, really awesome finds that you can wear now. Or even later, and not spend a fortune on them.
Also, I love my Nordies so much (The Gardens Mall). However it's on the smaller side. So I am excited to scope the Nordstrom Anniversary Sale out online and share some updates over the next few weeks. I have had quite a few requests for booties — and loved these and these so much in store — as well as some work wear pieces and denim so I'll be following up with more of this content. Anything else you're searching for?
STRIPES, DENIM & SLIP-ONS
STRIPED SWEATER (wearing XS; also loving this thicker striped sweater) // MADEWELL DENIM (size down) // UGG SNEAKERS (runs TTS)
All closet staples in my book! I'd wear this under $30 ribbed sweater on a chilly night with cut-offs or white jeans, and the high-rise, button-front denim and slip-on sneakers are perfect anytime. These sneakers come in three colors, including the prettiest fall-ish lilac (not sure how else to describe it, lol, but it's a really pretty color!)
For denim reference, I recently wore this same style in the light wash in this post.
TIE-DYE FOR FALL!
DIP DYE LONG-SLEEVE TEE (wearing small)
Love, love this for fall; it's on the longer size (and has a flattering rounded hem) but size up if you want a more oversized look to pair with leggings or have it slouchier and slightly off-the-shoulder. It's slimmer in the arms as you can tell. Definitely that perfect, fall in Florida, top!
THE ULTIMATE FALL OUTFIT
TOPSHOP RIBBED LONG-SLEEVE TOP (wearing US 4-6) // MADEWELL RYDER CARDIGAN (Size small; purchased) // MADEWELL DENIM (size down) // VINCE CAMUTO BOOTIES (runs TTS)
Ah, not to be dramatic but my love affair for this outfit is intense. This Madewell cardigan is back in both solids and this gorgeous striped situation and it's so soft, and incredible that I had to have it. I own nothing like it and it's just cozy perfection. Trust. I also got this Topshop ribbed top because it's one of those pieces that you can wear to work, weekend, dressed up or down and is super flattering.
I know a lot of you are looking for booties and I'm really into this pointed toe pair by Vince Camuto. They're just under $100, really comfortable and the pointy toe is so flattering and modern. Highly suggest! I'm currently considering them.
CASUAL FRIDAY
MADEWELL FLORAL TOP (XS) // MADEWELL DENIM (size down) // VINCE CAMUTO BOOTIES (runs TTS)
Had to share this adorable little top if you're a Madewell fan. It has the cutest button detailing down the back and has that modern cropped look without being too short and could easily be paired with khaki trousers for work.
DATE NIGHT DONE RIGHT
BP LACE CAMISOLE (XS and comes in tons of prints and colors!) // WIT & WISDOM DENIM
AH, the perfect easy date night look! This camisole is awesome and such a good $25 purchase. It comes in tons of prints and solids, though this dark floral and a leopard version are my two favorites… layer them or wear them on their own; they're always a popular purchase every year and I get why. The straps are adjustable.
Let's talk denim! I never tried these Wit & Wisdom jeans before but kept hearing about them because of its Absolution waist "technology" — basically the waistband has this elastic on the inside that prevents muffin top, and your pants falling down. Genius, and thank you very much! They're available in a couple of washes (also loving this one), and are more of a mid-rise denim. For sizing, I'm wearing a size 2 (regularly a size 26), though would have sized down as they're pretty stretchy.
LET'S LAYER IT UP
BLANK NYC FAUX LEATHER JACKET // BP LACE CAMISOLE (XS and comes in tons of prints and colors!) // WIT & WISDOM DENIM // VINCE CAMUTO BOOTIES
Same outfit, ready for a cooler night out! I have a similar version of this jacket and it's one of those pieces I'm always reaching for in Florida because it has that cool fall/winter vibe, provides a little warmth and yet isn't heavy. It's faux leather and good quality, particularly for the sale price.
And sorry for the fuzzy quality but I couldn't resist trying on this fuzzy blush BB Dakota coat, that I think would be perfect in a slightly cooler climate say a Nashville, Atlanta, etc-type place. It's not warm enough for a NYC by any means but it's soft and cozy and fun, a great price, and you know… 🙂
BLOUSE YOU'RE ALWAYS LOOKING FOR
CHELSEA 28 TOP (Size XS) // WIT & WISDOM DENIM
This top was one of those random things that I'm not even sure I understood the silhouette when I picked it up, lol, and was completely obsessed once I tried it on! This is more of a blush pink in person, with this cool leopard print feel. It zips up the back so it's fitted, yet had that flattering front-tie detail. Love the idea of wearing this with skinny pants for work, or even black denim for date night this fall. It also comes in a pretty dark green, and is such a pretty, unique and flattering drapey tank.
PERFECT POCKET TEES FOR $15
CASLON POCKET TEE (Wearing XS)
Who doesn't love an easy, flattering tee? There are lots of good ones at Nordstrom, Target, J. Crew Factory and all over town so no need to load up, however I do seriously love this star print that's more pronounced in person. The rounded necklace also provides a flattering shape and it's about $15. Can't go wrong.
OUTFIT ESSENTIALS ALL IN ONE
LIGHTWEIGHT SWEATER // WIT & WISDOM DENIM // BLONDO BOOTIES
A cool day go-to outfit! This sweater is actually one of those cozy ones you see people wearing in the summer, and you totally can… I'd add a little knot to the end, with a pair of cut-offs and call it a day. I also tried it on below with a pair of black trousers and it was equally cool. I have a few white / cream sweaters so I sadly can't justify this purchase but it's a good one of you have nothing like it.
And, here are those Blondo booties that are available in a few colors. I have a pair of Blondos from no joke three years ago that I've worn to death. They're waterproof which is amazing and wear incredibly well. This pair also has a comfortable heel height, and cool side detailing (click through to the product for a better view) and comes in a few colors.
FALL WORK WEAR
SWEATER // PANTS // SAM EDELMAN LEOPARD PUMPS
Here's a better look at the sweater, along with these slim cut pants with a cool belt detail and a classic leopard pump. Each of these pieces can be worn a million ways.
LET'S GET DRESSED UP
LEOPARD PRINT DRESS (wearing XS; not yet online)
For leopard with more coverage (and work appropriate), try this or this leopard dress, or this midi pleated skirt.
Cue the leopard again! Leopard and snakeskin are having a major moment this fall as you'll see in a lot of the fall styles. This leopard dress for me was the biggest winner because I can wear it now, or later with a denim jacket, it's a whopping $33, and sure, is it the best quality ever? Nah, not really… it's really, really cute and totally worth the price. In person the front has a pretty slightly ruched detailing, and it has a flirty, slightly frilly hemline without being too short. I snagged this one, and am wearing an XS. Comes in a few prints and solids.
THE WEAR NOW / WEAR LATER MAXI
LEITH MAXI DRESS (Wearing XS); for more of a fall floral with sleeves, try this (I have last year's version)
Another dress you can wear now or later, and this one is on sale for under $45! I'd probably wear a little camisole underneath for daytime however it's a gorgeous dress that you can easily wear to any event. Available through plus size.
ATHLETIC / LOUNGEWEAR
Ahhh, enter the cozies! There's a lot available but I honestly didn't have the energy or compelling need to show you a million things. There are a few standouts….
THE COMPLETE WORKOUT OUTFIT
ZELLA JACKET // TANK // BRA // LEGGINGS (almost 6K 5 star reviews!!)
I HAD to try these Zella leggings that have nearly 6,000 five-star reviews… people wear them to workout, run errands, underneath tunics with boots or flats, you name it. They suck you in, are flattering, have a great higher rise and are all-around winners… you can't beat it for under $50! I have been living in my Amazon leggings (these!), which are more of a thinner feel than these… honestly, a personal preference.
And, as you'll see below, Zella now has leggings with pockets in the sale — that's a win!!
Also, have a jacket similar to this from Lululemon from probably five years ago and it's just great if you don't have something like this. Thumb holes, breathable fabric, flattering shape, etc.
This tank! I'm really, really into it for the weekend… just light-weight and comfy to throw on, comes in four colors, and the cropped style is awesome, and doesn't show anything when paired with a high-rise legging.
Zella bra! I got this one because… it fits really well — the back has adjustable straps and an adjustable band (like a bra). I also found it really comfortable, flattering and held my girls in place. Wearing a size small.
BP LOUNGEWEAR: SWEATSHIRT // SHORTS // PANTS (all size small)
Hearts or pink camo?! Hearts or pink camo?! Both prints come in both pants and shorts and you can honestly wear any of these light-weight sweatshirts out and about. I obviously don't need two sets and can't decide which one I like more. These are insanely soft, flattering and comfy, and you can't beat the price (it's just slightly above Target pricing).
For sizing, I love the fit of the size small in the top and shorts, but found the pants to be too oversized in person; would try an XS.
MY LOUNGE WEAR LOVE AFFAIR
SHOES // ACCESSORIES / MISC.
Here are the five pairs of shoes I tried everything on with. I LOVED four out of the five pairs…. as you'll possibly note above, I didn't try on the black flats with anything because I found the quality to be super sub-par. They gaped when I walked in the fitting room and the sole was awful. I love Steve Madden but would not spend $50 on these. You've been warned.
L-R (everything comes in multiple colors): STEVE MADDEN // BLONDO BOOTIES // VINCE CAMUTO BOOTIES // SAM EDELMAN LEOPARD PUMPS // UGG SLIDE SNEAKERS
BP MULES: the updated version of a grey pair I purchased and wore lots last year; a fun fall shoe, and into winter for us warm weather girls. 🙂
STEVE MADDEN BOOTIES
Leopard and snakeskin! I gravitate toward the leopard and think I'd get more use of them if you're considering. I absolutely love the cut-out detail and block heel. Find them here in leopard, and here in snakeskin and black.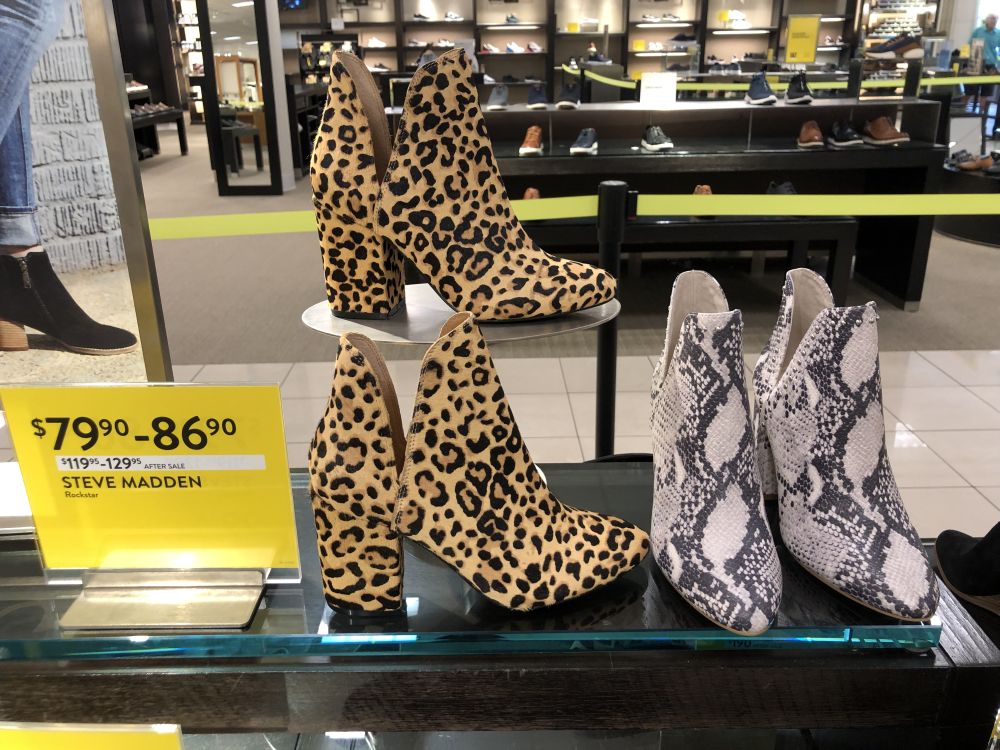 UGG SNEAKERS (here)
Here's that dark lilac-y color, plus the grey pair (more grey in person) and black. These are INSANELY comfortable and a great price on sale. I'm considering getting these as I've wanted the Vince slides for a couple of years but don't want to spend $150-$200 on them.
BLONDO BOOTIES (here)
Here's a better view of that cute detail on the pair I tried on in the outfits above. Aren't these cute?! I love that detail, the lower heel, they're so comfortable and friends, they're waterproof. That's huge for me!
MY MOST FAVORITE TOTES IN THE UNIVERSE
MADEWELL TOTES (also comes online in navy): LARGER TRANSPORT TOTE & SMALLER TRANSPORT TOTE
My love affair with these totes is serious and how cool is this vertical striped detail?! I got the smaller size in that tan cognac last year and live for it… except I'm kind of loving this one with the stripe even more. The smaller version is so roomy, has a cross-body strap, the leather is a great quality, goes with everything, etc. I'm so tempted by the olive version. The larger totes are also fantastic, and ideal for work, too (you can fit a laptop); see sizing on me below.
If you have wanted to invest in an under $200 real leather bag, I can't say enough good things about Madewell. The smaller size is about $111, and the larger is $131; it's a solid discount from the regular Madewell store (I paid full price for mine as these styles rarely go on sale… trust me, I waited).
SNAKESKIN CLUTCH (here)
There wasn't much else in the purse department in-store that felt like a must-have however if you wanted to test out the snakeskin trend, I'm really digging this clutch by Nordstrom. It's around $65 I believe and will be fun with even a black top and jeans.
NORDSTROM ANNIVERSARY SALE JEWELRY: THE ESSENTIALS
There happens to be quite a bit of really pretty jewelry at all prices (think Gorjana, Madewell, BaubleBar, Kendra Scott and Kate Spade, for example); you can find all Nordstrom Anniversary Sale jewelry here.
I might have moved pieces around to capture my favorites in one shot. 🙂 I've been seeing this chain detail from pricier brands so was pleasantly surprised to see it as part of the sale; there's also this awesome pair of hoop earrings with the same detail. Basically everything in this photo are great pieces you can wear over and over.
HOOPS // EAR CRAWLERS// PENDANT NECKLACE // CHAIN NECKLACE // CHAIN BRACELET // CHAIN HOOPS (not seen)
MUST-HAVE BEAUTY PRODUCT
I also need to take a closer look at beauty & home, however this lip kit is #1 on my list… I've wanted the Charlotte Tilbury pillow talk lipstick & pencil for forever (literally been in my cart for ages) because I keep hearing how it's the perfect nude that's flattering on everyone. This set is such a good price!
WANT MORE NSALE COVERAGE? I'll be sharing video on Instagram stories at @themodernsavvy (I'm also trying to compile all the video into one for YouTube without my vision getting blurry, lol).
And, THANK YOU SO MUCH for checking out today's post!
In full transparency (I get this question often), I earn a small commission on your purchase as a result from clicking through my links, when mine is the last link you clicked to get to a retailer site before checking out. The same also applies if you check out and use the pick up at your local store service (which I love!). This is called "affiliate marketing" and is one of the key ways mine and other blog businesses run. I am so grateful for your readership, and for your support of The Modern Savvy!
What Nordstrom Anniversary Sales are you excited about? Share in a comment below!