Holy August! I can't believe we are nearly into fall and school is back in session for many of us. Where did the summer go? I know I'm going to quickly miss the summer days but part of me reaalllyyy loves being back on a schedule that gets me working by 8:15 am; those 9:30 am start days with camp were killing me.
My current getting-back-to-reality struggle is dinners (per every year!)… I just got an Instant Pot and I have a crock pot so I'd also love you forever (ok, I already do!), if you'd share any super easy recipes you have. Sarah's going to have activities three nights each week that fall during dinner hour so I need this ready fast, or prepped early. Help this mama! (anyone else laughing at this meme, ps? Serious truth!).
Anyway… here's why you're here… Here are my current favorites for the month of August!
August Current Favorites:
WATCHING: The Bold Type
This TV show is SO good!! I'm working on a blog post about all the best shows to binge watch but couldn't resist sharing this gem with you. A friend recommended it, and he was so right. It's about three besties who work at Scarlet magazine in NYC. They're super ambitious… but never at the expense of a friend or colleague. They're kind, fun, talented, gorgeous, with plenty of relationship and work drama to keep you wanting more. Plus, I love their fashion closet gossip sessions, and basically everything they wear. It's on Freeform (or on demand)… WATCH IT!
FALL PREPPING: Vince Camuto booties (here)


I love seeing what you guys purchase based on my site. I love even more when you report back (seriously, tag me on Instagram or Facebook — would LOVE to see more of what you're getting and loving!), and these booties were among 2017's most popular purchases. Get this: they're now just $59 at Nordstrom Rack!! Plus, they come in black and taupe, are super comfortable (the block heel seriously helps!), and look so cute with dresses, skirts & jeans. Definitely a worthy purchase!
USING: Reusable straws (here)

My kiddos love smoothies (homemade or store bought) and obviously straws make drinking them way more fun. The stinky part is all the unnecessary plastic waste. I recently purchased this pack of silicone and metal straws and we all love how they're equally perfect for smoothies or your tumbler. You can also keep one in the car for your iced Starbucks or coffee pick-me-up. I know it only seems like one straw at a time, but it's such an easy swap (even if just at home) and our collective impact could be huge.
EATING: RXBAR PB& J (here)
You guys know I have a thing for RXBAR — they're just SO good, and have none of the added extra stuff. More recently I've become in love with its kid-sized bars, which clock in closer to 120 calories compared to 210ish. Yup, their half the size, but often that's all I need for a mid-morning or afternoon snack. I often get the chocolate chip one — they're easier to find however the PB&J bars are a new release and so freaking good. Plus, they have 7 grams of protein. They're finally available on Amazon and you basically need them. YUM!
YOUR BLOG FAVORITE: 6 Things We've Learned from Seeing a Behavioral Therapist
Thought it would be fun each month in this post to share which content you guys are loving the most. It makes my heart SO happy to see how you've responded to this post about what we've learned from seeing a behavioral therapist. I hope you've started putting some of the strategies into action and are seeing a positive impact as a result. Everything is a process but the more we can share and help each other — in parenting, and in general — the better off we'll all be.
WEARING: Coffee tee (here)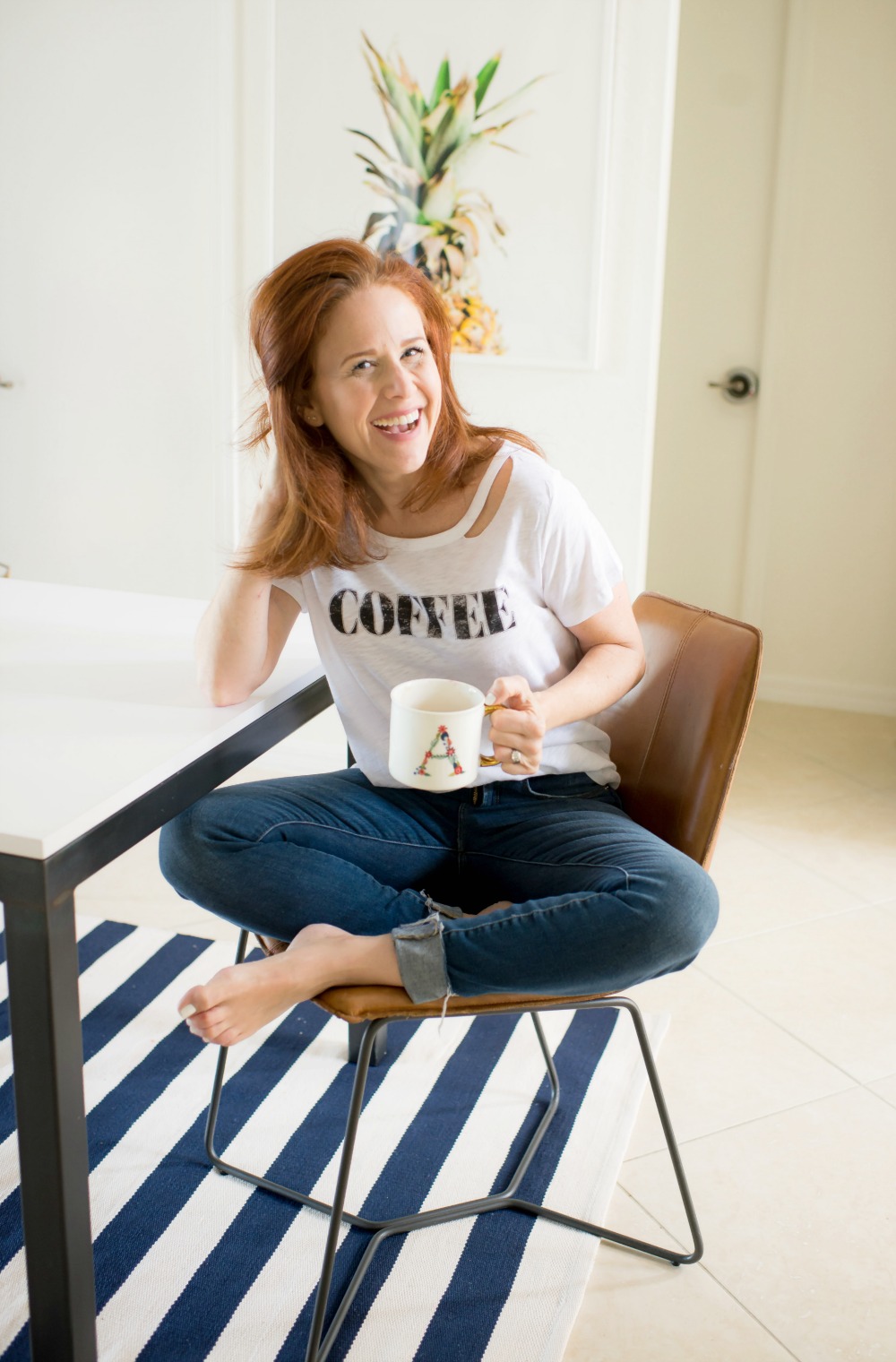 Gah, Target has done it again! I love a super soft, slouchy, distressed tee but paying $60 for one… sucks. This one is an amazing Target find, with the cutest neck detail and super soft luxe feel at just $15. I sized up to a medium for a cozier fit and can't stop wearing it. It will also look super cute with black denim and a cardigan, moto or a camo (or solid army green) jacket for fall.
In this photo: tee, denim (obsessed, size down), mug, rug, chair, pineapple print
That's all for August current favorites!
If you missed July current favorites, it's worth a visit here… a strapless bra that doesn't move, a favorite summer read, my favorite $16.99 joggers (so cozy for home or out!), and a seriously amazing exfoliating detox body scrub that's only $10ish.