Is there anything better in life than a seriously delicious cheese board?! Gimme all the cheese. When coming up with cheese board ideas, the options are seriously endless. Creating an epic cheese board, or rather, pulling together this awesome dinner party idea in 10 minutes, is easier than you think. I've been very inspired by my friend Aime would have always have a beautiful cheese board at any gathering, and more recently I've become obsessed with @ainttooproudtomeg… she shares the most incredible cheese board ideas. Needless to say, I am pretty darn proud that their inspiration has led me to this and I'm excited to show you how you can recreate it at home.
For my next easy entertaining post with Castello Cheese (remember the make-your-own burger bar?), I'm pretty giddy to share how I took their cheeses that I picked up at Publix to create an epic cheese platter in about 10 minutes. I am featuring four of their cheeses but they have so many to select from — nearly 50! I like to think I'm pretty particular when it comes to cheeses, and these are all crazy good. I obviously did extensive taste testing before agreeing to working with them. 😉
So let's get started! Here's some of the best cheese board ideas.
Cheese Board Ideas:
Start with a fab platter. I previously had a glass platter but the acacia wood platter (with a little lip that helps it all stay put!) for under $25 has been the best purchase. It beautiful, well made and really adds a warmth to your presentation. I also love this marble/wood combo tray under $30.
Get your cheeses. Our cheese boards for a dinner party have 3-4 cheeses, plus 2-3 meats. I used Castello's Double Cream Truffle (EPIC) and put two halves on opposite sides of the board, plus a Castello Danish Blue, Gouda, and a Jalapeno Havarti, which I quickly sliced for presentation, and easy grabbing.
Load up on all the yummy snacks! Here's where the fun comes in. The secret to an awesome cheese board — beyond amazing cheeses like Castello's, of course! — is to load up on all the other stuff. Like, seriously load up so you can't see the board.
First, grab an assortment of crackers. I picked up basically everything you see here from Trader Joe's and I love the pita crackers, a white or wheat round cracker and a fun crispy cracker with fruit (like raisins or dried cranberries).
Next, include some meats. Trader Joe's has a great trio meat platter, otherwise look for super thinly sliced options like prosciutto, capicola and salami.
Now it's fruit and veggies. Grapes — in either red and/or green — are a must, and pair perfectly with cheese. We also included thinly sliced cucumbers (also an ideal "vessel" to layer with cheese for those low carbing!), dried apricots, and more like strawberries, raspberries or blackberries, and other dried fruits like oranges, which also provide a great visual presentation.
More fun snacks include olives, figs, almonds, pickles, wasabi peas, an apricot or fig jam, honey, etc., so this way you have plenty of salty and sweet. Honestly, look through your pantry and fridge and grab whatever you have. Use a few small round bowls to corral these smaller items, while also adding visual interest. After stalking out tons of cheese platters, I definitely noticed this & it really makes a difference.
Start assembling. Ok, you have everything you need for your platter! I first placed the cheeses a roughly equidistant space around, slicing one and just mixing it up. Put on the crackers/breads, then grapes or strawberries — something larger that will help separate everything, and then basically start grabbing items and putting them in. For meats, we rolled them, but it's also nice to fold them and mix it up. The best part… you can't mess this up! Just seriously load it up and have fun with it.
Critical tip: Don't overthink the cheese board…. just pile it all on there! The more the merrier.
The final touch. Seriously… where has rosemary for decoration been hiding all my life?! Do you need this step? Definitely not. Is it an awesome little extra? Absolutely, and it takes 10 seconds. I love the earthy green that it adds to the platter and it smells amazing. Put a sprig on your creamy Castello cheese, and then use it to fill in any spaces like you can see on mine. Bellisimo!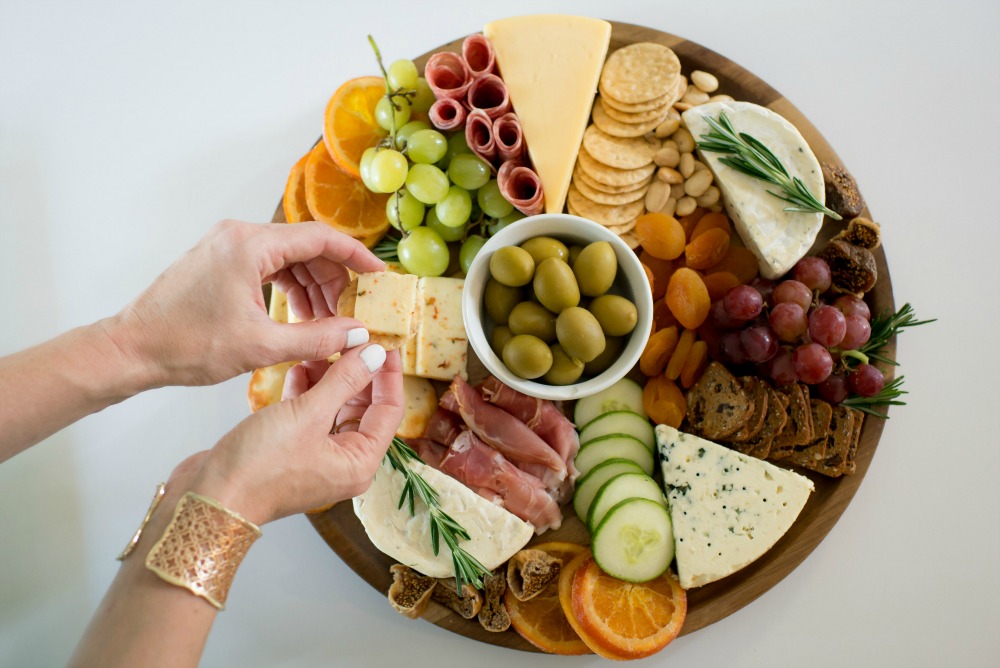 Thank you to Castello for sponsoring this post (and adding such delicious cheeses to my life!).Check out its nearly 50 cheese varieties here.  All opinions are 100 percent my own.