Hi there, and welcome to my house! Today's post is a bit of a two-for-one: a sneak peek at our updated living room, plus one of my favorite styles for spring.
First, I'm so in love with what's happening behind me. After about five years of lusting, I finnnalllly got a blue couch, and thanks to my interior designer friend, Brianna, from Understated Elegance, we created this awesome wood paneling treatment in our two-story entry, and topped it with this this gorgeous art from Minted. I love the way it brightens the space. Everything about this space brings me joy when I walk past every day.
If you're not familiar, Minted is an online shop that connects you to independent artists around the world. Speaking candidly, I had been hesitant in the past to order — just never pulled the trigger — but I couldn't be happier with the results. This arrived quickly, framed and ready to be hung. My kind of delivery (especially for a print this size, though most prints can be made as small as 5×7). For me, the best part compared to other sites, is that Minted makes it super easy to visualize size and style, and they also now have a larger home collection (the pillow collection… amazing).
If you're house refreshing or shopping for Mother's or Father's Day, the site is definitely worth a look… plus highly recommend this heart photo print I recently featured in Alyson's Obsessions for a personalized gift. Take 15% off any purchase through April 4th with code EIGHT to celebrate the site's anniversary.
OK, enough of me blabbing (though you have to know when I feel passionately about something it's hard to shut me up!). Now, on to the look…
In addition to tassels, off-the-shoulder styles are starting to pop up everywhere now that the temperatures are heating up. During a recent trip to the mall, where I was on the hunt for something to wear to an 80s party, I stumbled across this adorable under $20 blouse that was both off-the-shoulder and had pom poms. I mean, SOLD. What girl can resist? 🙂 The cotton is perfect for Florida, and unlike some blouses with this style that won't stay on my freaking shoulders, this one does. Seriously, I highly recommend moving around in this style a little to see if your purchase stays where it is. I've left quite a few things in dressing rooms or returned because it kept popping up on my shoulders every time I moved. #firstworldfrustration.
Also, I know a black top & blue denim is many women's go-to evening look, so try mixing it up by pulling out your white denim (just don't forget to wear nude underwear, too!). I love the fresh take and how it makes other colors, like my earrings, pop.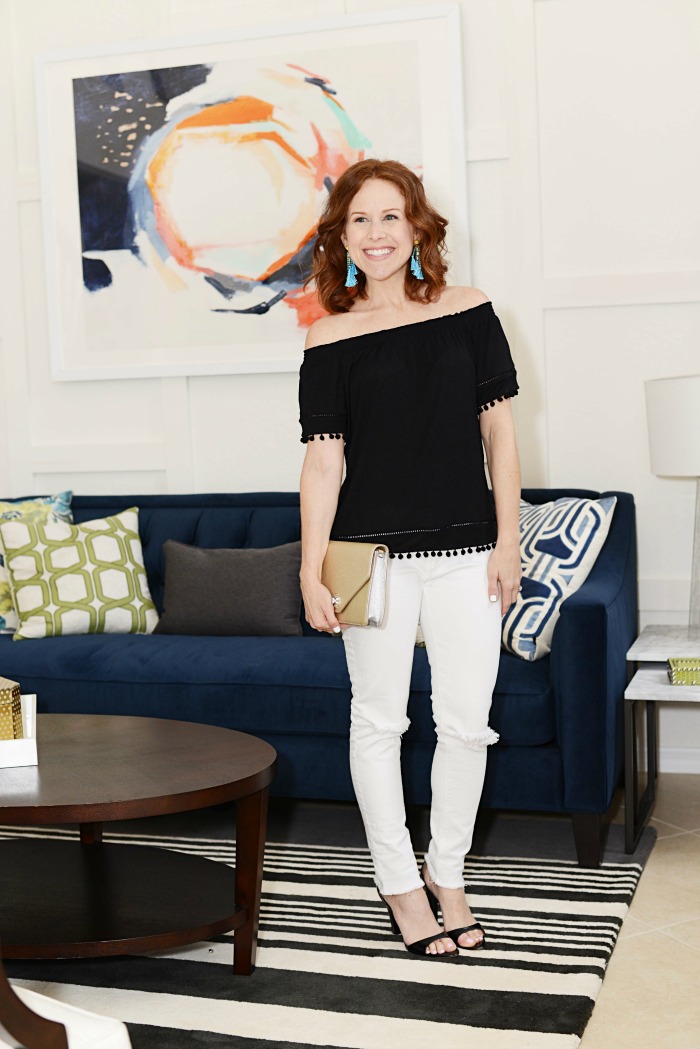 Blouse: H&M (similar) // Denim: J. Brand (this or this for less) // Heels: Zara (old, similar) // Earrings: c/o BaubleBar // Clutch: Tory Burch (40% off; also a cross body)