Hey friends, and happy Monday! I'm back sharing a whole random assortment of things I'm loving this month. As always, it's random (see December and January for more fun finds) that include food, style, home, beauty, life, tv, reads, you name it.
San Francisco Bay Cup single cup coffees (no plastic packaging!): Ok, if I shared this already I'm so sorry but last year on my hunt to destroy the environment a little bit less with all my plastic k-cups for my Keurig, I discovered these pods. Beyond delivering a bold yet smooth roast of coffee — really, it's a satisfying cup of coffee — I love the plastic free packaging for daily use. I now buy in bulk, which is also much cheaper than my k-cups but they sell smaller amounts, and perk: I can use my Amazon Prime (equally obsessed).
Marble side tables: after about four years in our current home, we're finally investing with new furniture, lighting, decor and just improvements that needed to happen. I've wanted marble in my house like a crazy person so I made it happen with these West Elm nesting tables. They're gorgeous, seriously solid, quality pieces. We're using them as side tables however I'm seeing on the site lots of people using them as a beautiful coffee table. I got each set during a 20% off sale and they ship free to my store. The payoff is so good. Seriously brings a smile to my face each time I see them. (ps: will be sharing some home updates & ideas later this spring!).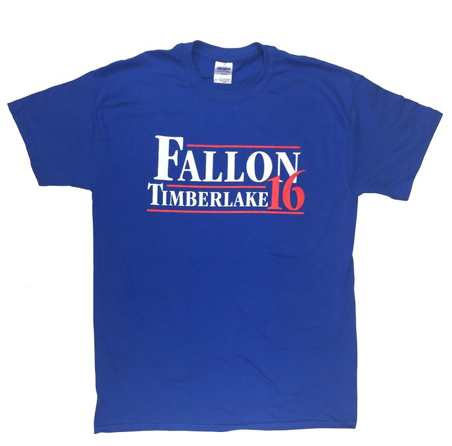 Fallon/Timberlake tees: I spied a friend's little ones wearing these Fallon/Timberlake tees on Facebook, which clearly created an Internet black hole spiral as I HAD to have one for my son (though truth: I want a match one for me!). I ordered his on Zulily since he's only a size 2 (though they have kids and adult sizes, including sweatshirts), and saw some great options on Amazon. Should be arriving any day… sooo excited. The world would be a better, well at least funnier place, with these two guys heading it up.
Korres wild rose moisturizing cream: In my hunt for safe, more natural products I tested this quality moisturizing and brightening cream, which goes on weightlessly and absorbs quickly yet provides real moisture without irritation to my sensitive skin. While the brand's "wild rose" oil was candidly too fragrant for me personally (I'm hyper aware of stuff like this), this cream smells so pretty without overpowering and has nearly 1,500 impressive reviews on Sephora's site. Excited to have found something this good for my skin. Consider me converted!
Mint chocolate chip Quest Bars: I've previously mentioned my love for the chocolate chip cookie dough version of these, however I recently discovered this flavor and I'm officially a convert. I try not to eat too many bars these days but you know those crazy days when a meal is just not happening?! These high-protein bars keep me satisfied longer than most, and also are about 100+ less calories than others. Have to confess that I have not liked a few flavors at all however both of these are major winners.
Nordstrom Winter Clearance Sale: want to know the best thing about this sale?! Yeah, ok there's a bunch of winter stuff, but there are also so, so many great accessories that will take you into the heat of the summer. A few favorites include this, these and these, this blouse, this popular tunic, and this light-weight sweater, plus this goes-with-everything army green jacket (it works every season!).
Plus, who can resist this fun bag charm (great surprise gift for someone, too!), anything by Zella (people are fanatical over the brand, and this jacket is a personal favorite), and this Rebecca Minkoff mini tote … I have last season's version in white and you might remember wearing it nearly daily. This one is now in my cart (shhhh); I can see the pop of color being a fun addition to any look.