UPDATED APRIL 2015 //  The original girly shoes post included below from July 2012 still remains one of TAGG's most popular so it's clearly been way overdue for an update!
While this girl wears a size 9 shoe (I know, a boat for my 5'3 height!), there are many of you who can definitely take advantage of wearing girls shoes instead of women's… with a major cost savings on stylish finds you'd never realize were originally designed for kids.
Check out all the options below for updated, Spring 2015 finds, many that can fit up to a women's size 8 (most go up to size 7). So many cute, seemingly adult styles, right?? The key is to avoid too many embellishments, any child-like details or prints and for boots, unless you're petite, stick with booties; the calf shaft might hit you in a weird place with a kid's version.
HOW THIS WORKS: Youth shoes are about two sizes apart (and the same size as men's!) so, for example, a youth size 6 is a men's size 6 and a women's size 8. It's easiest to find sizes that work up to a women's size 7 (youth size 5), however options do exist!).
GIRLY SHOES DETAILS:
SANDALS
Cherokee silver & white sandals // Michael Kors jelly sandals (comes in 3 colors) // Steve Madden multi-colored sandal
Tom's denim sandals //  Michael Kors Jeweled Sandals // Birkenstocks (only up to women's size 5.5; more here)
Target Gladiator Sandals // Ivanka Trump (also in nude) // Sperry Kids
FLATS
Michael Kors leopard espadrilles // Michael Kors embellished sneakers // Sperry boat shoes
Kenneth Cole peach flats // Spery gold boat shoes // Converse shoreline sneakers
Circo laser-cut sneakers //Amiani silver glitter flats // Tom's flats
BOOTS
Kenneth Cole black booties // Hunter gloss rain boot // Cherokee ankle boot
Tom's booties // Kamik rain boots // Peek leather ankle boot
Original post //  Remember how I showed you how I styled a girls' dress from Crew Cuts (the kiddie version of J. Crew) on Monday? Well, even if you don't think you're made for kiddie sizes, your feet might! Did you know that women up to about shoe size 8.5 can wear children's shoes? While yes, a majority of shoes look youthful, there are a number of stylish looks and some that are even identical to their pricier adult counterparts.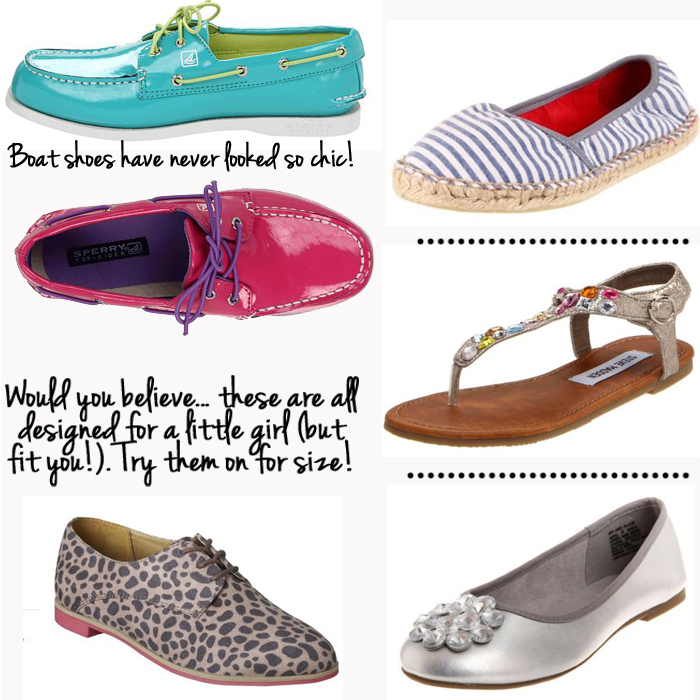 Is this something you do? Would you be willing to give these girly shoes try (especially since it comes with a cost savings!)?
GIRLY SHOES DETAILS:
Sperry's pink patent leather (on mah-jor sale… under $25! Comes in a dozen colors, fabrics) || Steve Madden glam sandal || Kenneth Cole striped espadrille (free shipping + free return!) || Kenneth Cole flat || Xhileration cheetah oxford