I'm not into "outfit posts" for the sake of showing you photos of me in an outfit. BOR-ING. So instead, I'm going to share with you some outfit essentials; because I always want to provide more value. Whether it's something that might be major life transformative, or simply sharing how you can feel your best in what your wearing. I always want you to leave feeling like you got something out of each post that you read.
So this outfit essentials post is dedicated to three "basics" I wear constantly and yet I'm probably not sharing much in an effort to show more current pieces. Wrong move Alyson because what's worse in life than that darn sock that keeps falling down in your sneaker while you're walking? Like, the absolute worst. Friends don't let friends have socks that are falling down. So let's get started.
Three current outfit essentials:
LOFT no-show socks
Omg you guys, these are THE BEST. And I know, we all love LOFT but random store for epic socks right?! Listen to how I found these…
Last year, I asked y'all on Instagram your favorite no-show socks because I was having a no-show sock crisis. Any I tried just wouldn't stay up. Some brands were mentioned 2-3 times. But I swear to you, no less than 30 women raved about LOFT no-show socks. I think many of you discovered it by adding them to receive free shipping (lol, smart strategy) and then discovered a gem. So I LOVE these, and get them whenever they're on sale. They come in solids and TONS of the cutest prints. Oh, and I now buy them for Sarah because she was stealing mine to wear with her Vans.
Amazon off-the-shoulder tee
I can tell from my analytics that when I post this tee on social media, you guys love it! I've even had quite a few of you circle back to tell me you are so happy with the purchase. Yet, I've never shared it here. I'm SO in love with the slight off-the-shoulder look. It has a slouchy vibe, insanely soft material, under $17 price tag, washes incredibly well, and comes in about a dozen colors.
You can dress it up or down, and can even let your bra/bralette strap show. No need to wear a strapless bra with this shirt! However, instead of wearing a nude bra, I do suggest wearing a colored strap bra for a fun little pop.
If you're looking for a bralette though; I'm obsessed with ones from Aerie. The lounge wear brand from American Eagle. I've also bought a few bathing suits from them this season, and I can't say enough good things about them. If you've never shopped Aerie / American Eagle or its been years, I highly suggest checking it out.
Madewell denim
The hype is real for Madewell's denim. This light-wash pair I got at Nordstrom with exposed buttons has been basically glued to my legs all summer. Well, I also wear lots of shorts because it's about 97 degrees… but the A/C is always blasting, too. The fit on this pair is perfection. The quality is fantastic. And the price point is better than other "designer denim" brands. As you likely know by now, I love jeans so much so I wouldn't rave if it wasn't warranted. You can find more Madewell denim here.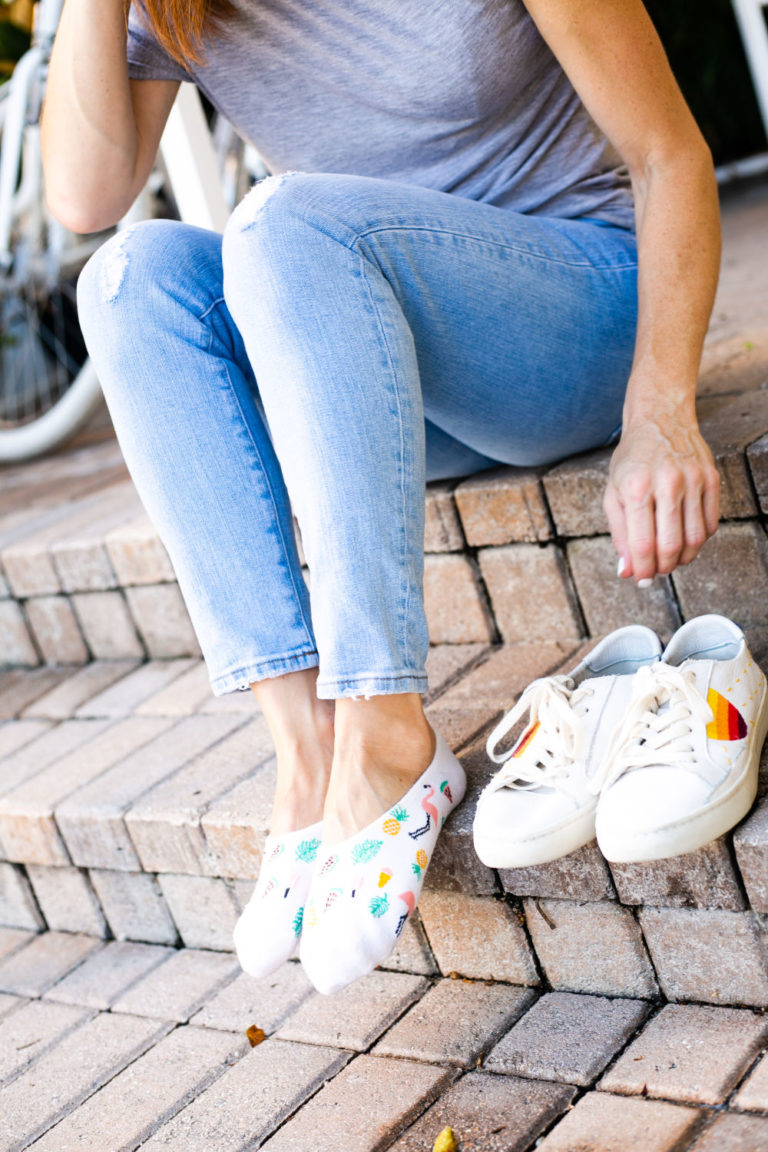 OUTFIT DETAILS:
Tee: Amazon // Denim: Madewell // Socks: LOFT // Sneakers: Soludos (sold out; another Soludos rainbow style here) // Bracelets: c/o Alexandra Gioia // thin rainbow ring: part of this BaubleBar set (more similar rainbow ring options under $50 here) // X ring: BaubleBar (wear it daily)
What are some of your current outfit essentials? Share in a comment below!
photo credit: Heather Holt