I seriously can't believe we are already in back to school mode! School started here on Monday so we have been trying to get out of summer mode and get fall ready. That obviously includes fall fashion! Sarah wears a uniform to school but my stylish girl loves her fashion and often changes as soon as she gets home so this time of year is perfect to refresh her closet…. and mine as well!
We are so excited to partner with JCPenney to show you two, head-to-toe, fall back to school style that totally delivers with style and great value. We had so much fun playing on the web site, picking out items and putting outfits together. If you saw my recent Instagram stories you might have seen Sarah's freak out over this denim jacket… her obsession is real (mine too!). Plus, the fringe comes off so it's super versatile. She's been wearing it nonstop… and yes, it is roughly 89 degrees still in Florida!
JCPenney truth talk: I don't want this to sound like an ad because, as a blogger (and a woman), all I have is my word. I hadn't shopped at JCPenney in a while mostly because there's not one super close. If I tell you everything exceeded our expectations, it would be an understatement. The cottons are incredibly soft, everything was even cuter in person (Sarah and I agreed the web site doesn't do some items justice), and every blouse I received are so cute. Plus, friends, the prices are so insane, particularly for the quality. For context, we ordered 25 items, including the three pairs of shoes in this post, and the total shipped was under $250. We're not keeping everything (sizing, duplicate, etc), however that should give you context to the value you can get for on-trend, stylish pieces at JCPenney. Sarah and I agree that we'll definitely be shopping here again.
While our "assignment" was to share with you one back to school style, we styled two because we couldn't narrow down our favorites! Check them out and let me know what you're loving for fall.
FALL OUTFITS #1
Let's just talk about how I want to steal Sarah's entire outfit! I'm also trying not to cry because my eight-year-old is looking so grown up.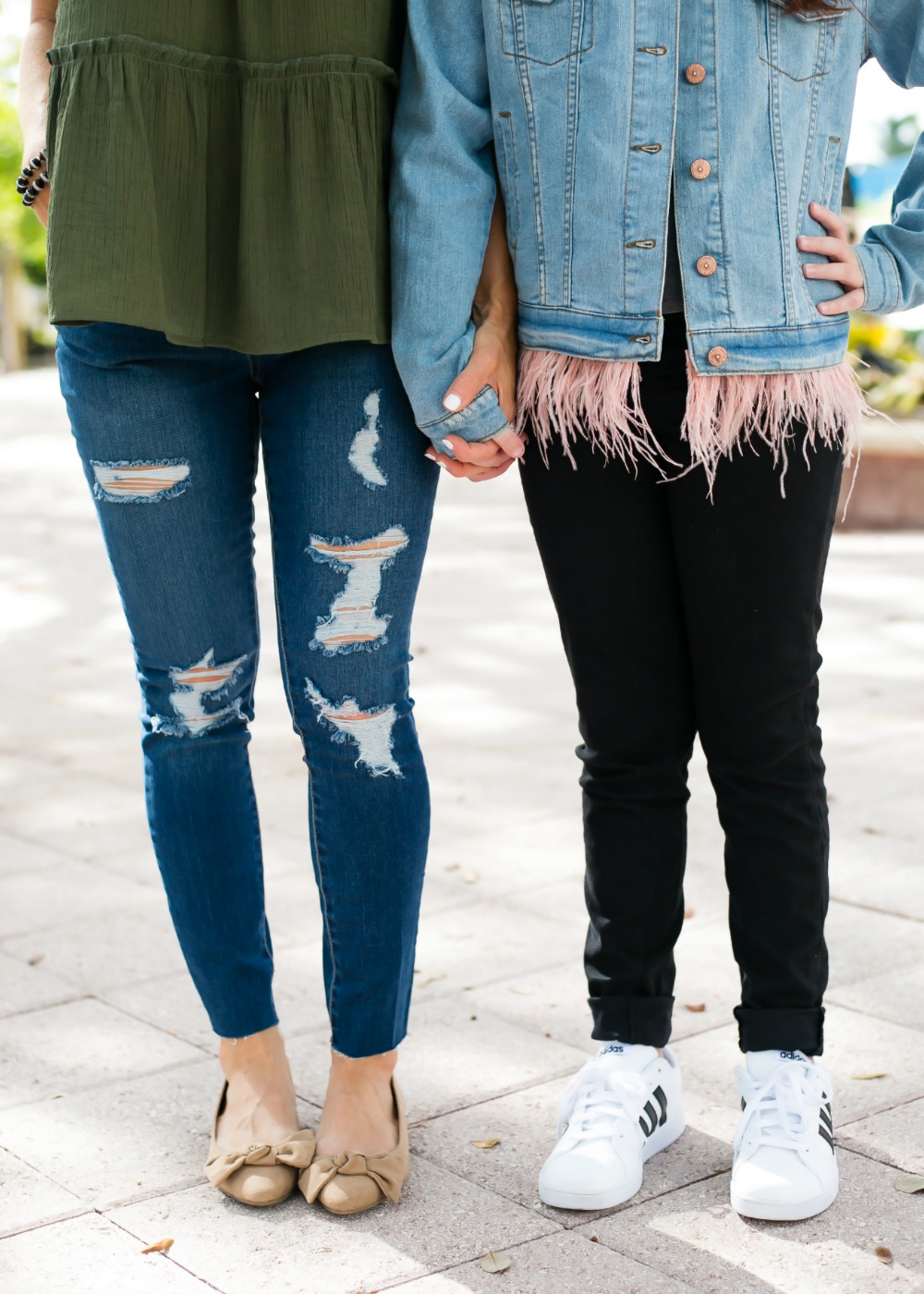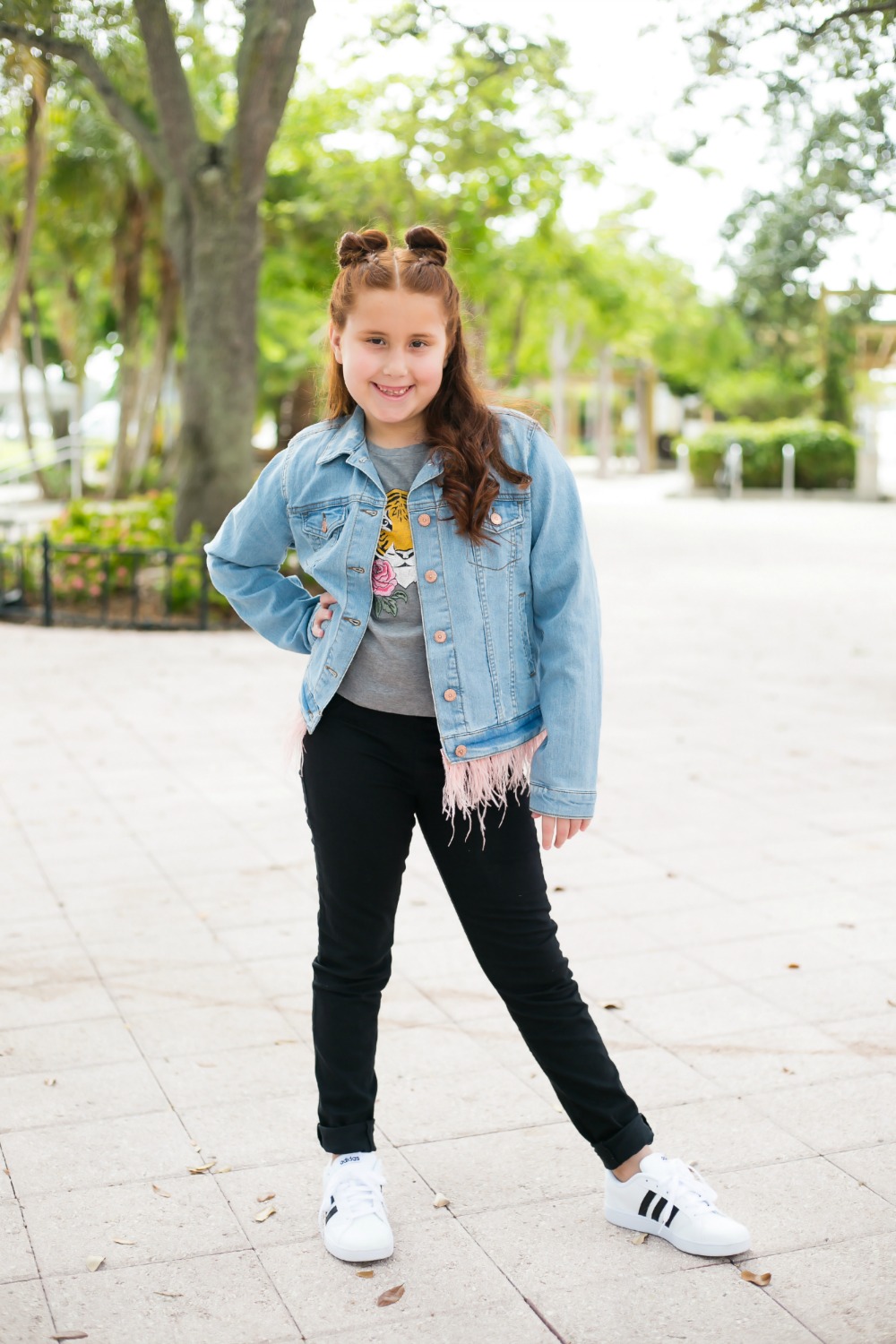 Back to School Style Outfit Details:
Sarah: jacket (with removable fringe detail) // tee // jeans // Adidas, all c/o JCPenney
Alyson: tank // distressed denim // bow flats, all c/o JCPenney
FALL OUTFITS #2
…. because floral and stripes are always a perfect combo, especially when you mix in embellished denim shorts! I can't get over my denim (cute, stretchy, and fits great!), and Sarah is obsessed with her striped top, with bell sleeve detail, that came with this super cute choker.
Back to School Style Outfit Details:
Sarah: tee (choker included!) // shorts // Adidas, all c/o JCPenney
Alyson: top // distressed denim // loafers, all c/o JCPenney
This post is brought to you in partnership with JCPenney. All opinions are 100 percent my own.
Photo credit: Heather Holt 
Loving the back to school style feature? Take a look here for more of my Featured Posts!!