Denim has been so much about skinny denim in previous seasons that's it's been fun to see more styles emerge.  You've likely seen me veer toward a skinnier leg denim as well however I tried these Blank NYC flare legs on a month or two ago and instantly fell in love. They're like nothing I have — which, as a denim hoarder — is the only way I can justify an additional purchase. Denim is having such a fun moment right now, from a straighter leg a la my early 2000 college days to embellishments and patches that are super fun.
A distressed hem is also very in right now… if you have an old pair of denim that gets no use, grab a scissor and test it! It's also a great way to save $15-$25 on a pricey alteration you don't need! You seriously have nothing to lose, and maybe a new pair of favorite denim to win.
By the way, I picked up this tank during my closet edit last month and love the flattering, unique neckline. The brand, Naked Zebra, isn't widely available online (more of a boutique brand) but I found tons of it on Amazon at super reasonable prices and at least based on this tank, has a super luxe feel for the price. For example, how amazing is this scalloped tank that comes in a bajillion colors? The cypress and capri blue are my favorites. I will absolutely be ordering from here.

Bold earrings are where it's at for spring. Some can be really heavy so love that this tasseled pair gives an impact without weighing my ears down.

By the way, I ordered these white heels last summer on a major end-of-summer clearance sale and have started wearing them more than I even realized. It's a super fun, fresh and modern spin on your usual go-to black or nude. Something to try if you're looking to mix up your pumps game!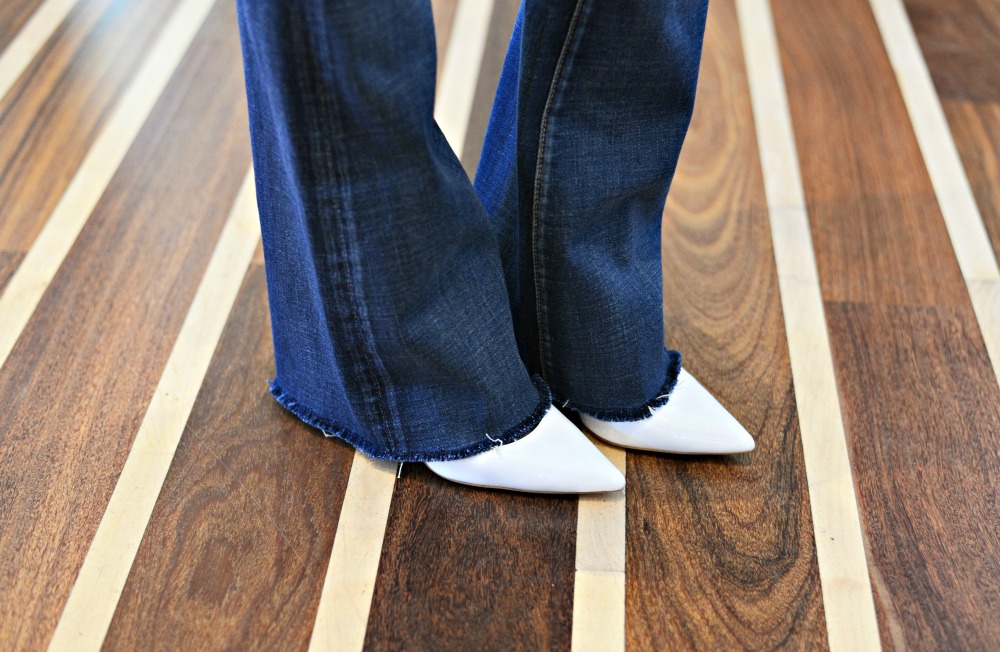 GET THE LOOK
Tank: Naked Zebra  via Marston Boutique (more really cute finds by this brand on Amazon)
 Denim: Blank NYC (similar here, here or here)
Heels: BCBGeneration (similar with a lower heel)
Earrings: BaubleBar  (also available here)
Ring: BaubleBar
Purse: Louis Vuitton